MLS
Long-time USMNT teammates Dempsey and Bradley set to battle in quest for first club title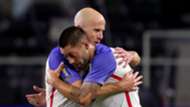 TORONTO — Clint Dempsey and Michael Bradley have played in dozens of matches, including two World Cups, as teammates for the U.S. national team, but they have met few times as opponents and never with a title on the line.
That changes on Saturday, when the last two U.S. national team captains face off in the 2017 MLS Cup final, a rematch of last year's title game, which Dempsey sat out due to a heart condition that kept him out for the second half of 2016 season.
Of all the intriguing matchups set to be on display, none will draw more attention than Dempsey versus Bradley. The two have been key figures together on the U.S. national team for the better part of the past decade, and were side-by-side for the highs and lows of the U.S. team's 2017, from their work in helping the U.S. win the Gold Cup, to the devastating World Cup qualifying loss to Trinidad & Tobago that cost the U.S. a spot at the World Cup.
On Saturday, it will be Dempsey serving as the focal point of the Sounders attack, trying to unlock a stingy TFC defense that is reinforced by Bradley's presence in the same area of the field where Dempsey is sure to try and operate.
Watch MLS live and On-Demand with fuboTV (7-day free trial)
"It is going to be an interesting battle," Sounders coach Brian Schmetzer told Goal. "Michael tries to orchestrate the game from his position but he will also have to deal with what Clint can do in that same area of the field when we have the ball."
The two players know each other well and they're each familiar with the other's strengths and weaknesses, knowledge they will look to exploit on Saturday.
"He works hard. He tries to close down the ball. He's a good passer," Dempsey said of Bradley. "We just have to keep playing our game and moving the ball well and I think when we do that, we're tough to close down. We have good possession in the attacking third, we'll have good chances so I'm looking forward to the challenge."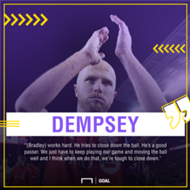 A year ago, the Sounders failed to record a shot on goal in the MLS Cup final, but with Dempsey in the lineup, the Sounders will feel good about their chances of testing TFC's defense in a way they weren't able to in 2016.
"Clint enters into the equation in a big way with his ability to make goals and set up goals," Bradley said. "To turn plays that seem like nothing into danger."
Bradley has come under criticism in the wake of the U.S. team's failure to qualify for the World Cup, and his omission from the MLS Best XI raised eyebrows in TFC circles as a major snub. That isn't likely to faze a player who has turned it up in these playoffs.
"I think he's been enormous throughout the playoffs in his ability to pick off balls, to get over and win balls and start attacks," Vanney told Goal. "He's covered a ton of territory, and I'm not sure Michael would say or not, but I think not having to play in a play-in game, and to have a little bit of time over this stretch where these games have been farther apart I think physically he's just in a really good spot right now. He's had less travel, less international travel, in addition to all these things where his body is able to catch up with his passion and emotion and fiery intensity.
"Now his body has been able to recover and I think he's in a really good spot, both physically and emotionally, and in a position to lead our team."
As for the Bradley Best XI snub?
"When I saw that he wasn't on it, my first thought was it was kind of ridiculous that if you pick a Best XI that you don't have a defensive midfielder," Vanney said. "In my opinion he's been the best defensive midfielder but to not have one? It's just the best 11 players, in some way, shape or form. It has nothing to do with a Best XI.
"I think he understands it," Vanney said. "To him it's not that big of a deal. What's important to him and all of us is that at the end of the day we want to win trophies and the individual stuff is subjective to people's opinions. What's objective is can we win trophies? Can we win the big one? That's what's really important."
Schmetzer echoed Vanney's thoughts on Bradley's Best XI snub.
"I don't know what these people see," Schmetzer told Goal. "I see a great player. He's got the engine to run all day. You can look at the goal he scored against Mexico. Look, there's 11 spots and you can't always make those accolades. I'm sure he would push that aside if he could win MLS Cup."
Bradley has enjoyed an impressive club career, which began in MLS with the New York/New Jersey MetroStars before stints in the Netherlands, Germany, England and Italy. Since returning to MLS, he has helped transform TFC from a league laughingstock to a powerhouse, but he is still searching for the first club team title of his career.
Dempsey experienced the joy of seeing his team win a title a year ago, but being sidelined left a bittersweet taste in his mouth.
"It was tough not being able to be on the field and battle with the guys," Dempsey said of the 2016 final. "As the game went on, I started getting more nervous what was going to happen and then it went to a penalty shootout and before that (Stefan Frei) with the great save. Our team battled very hard and they were able to see the game out in penalties.
"Running on the field celebrating with the guys and bringing a cup to Seattle, a city that has a lot of support, I'm happy to be back and playing again and have an opportunity to battle in the game."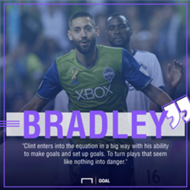 Schmetzer revealed earlier in the week that Dempsey told him shortly after last year's title win that he was determined to get back and lead the Sounders to a title win he could be a part of, so he could, in his words, go out on his feet. Having been on the field for two MLS Cup final losses with the New England Revolution in 2005 and 2006, Dempsey has tasted defeat and is eager to do his part to experience his first title game win on the field.
That is going to require that he get the best of his long-time U.S. teammate Bradley, who is fighting for the same trophy.
It should make for a memorable clash.
"He is absolutely hungry to get out on that field and make a contribution to the team to help the team win," Schmetzer said of Dempsey. "In that sense, I think you will see vintage Clint Dempsey, a very motivated, deadly goal-scorer when he's motivated. And I'm anxious for the game to start because I want to see a couple of U.S. players going after each other."