Sadio Mané
Liverpool still on course to beat Manchester United in Champions League chase without their Super Mane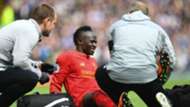 ---
COMMENT
---
"The more difficult the situation seems to be and the more difficult it is to handle, the better it feels afterwards when you look back. Our way is not the easy way – that's maybe the club's history – and that's no problem."
The Merseyside derby was shaping up to be the perfect afternoon for Jurgen Klopp, until the moment it became painfully clear Sadio Mane couldn't continue against Everton.
STATS: Mane's importance to Liverpool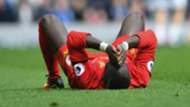 The Senegal international, whose archive of brilliance was wonderfully summed up in the way he fashioned Liverpool's opener, dropped to the Anfield turf following an innocuous challenge with Leighton Baines, placing his hands over his face in agony.
59 minutes into the 3-1 victory on Saturday, his game was over, and now, the Reds boss has conceded "it is possible" the 24-year-old's season could be over. 
Klopp: Mane could be out for season
Mane put on a brave face in the mixed zone after the match, walking out of the dressing room area unaided and telling reporters he was okay. But with scans so far proving inconclusive on the extent of the damage to his knee due to severe swelling, it is "not very positive" as his manager declared. 
And so Liverpool's crusade to finish the campaign with fireworks will have to be done the hard way through a difficult situation.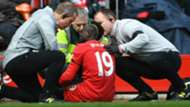 The last time the £30 million summer signing was unavailable, through his participation in the Africa Cup of Nations, Klopp's men fell from Chelsea's closest challengers for the league title to barely clinging on to their top-four ambitions. 
Mane's absence in January was exasperated by the loss of Philippe Coutinho, who suffered ankle ligament damage prior to the festive period, as well as the injuries to Jordan Henderson, Daniel Sturridge, Joel Matip and Dejan Lovren.
The latest Liverpool transfer rumours
Emre Can played during that period despite a nagging calf issue that affected his performances, while Divock Origi struggled for rhythm as the fixtures came thick and fast.
"The big problem was in January, and I've said it a few times, is that it was not only Sadio missing," Klopp explained at Melwood on Tuesday.
"Of course, everybody would miss Sadio - Southampton still miss Sadio probably, Red Bull Salzburg miss him, so we have nice company! 
"But it was such a hard moment in January. We had these games, we had the derby, then we played Stoke, then we had City, then we played Sunderland, then we played the [League Cup] semi-finals. 
"It was not the freshest moment of the season, I would say, and then missing Sadio in the shape he was in, plus missing Phil and all that stuff - it was not perfect, but that's how it is."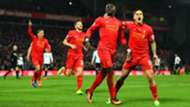 On this occasion, Henderson and Adam Lallana join Mane as injury absentees, but Coutinho has his mojo back while Can and Origi have offered significant contributions as Liverpool collected 10 points out of the last possible 12.
Rewinding to January, the Merseysiders also seemed mentally strained by Chelsea pulling further away at the summit, which disfigured their designs on ending a 27-year title drought.
Exits in quick succession from cup competitions did little to shift the disappointment, but with Liverpool now focused on and fighting for a Champions League spot, there is a renewed positivity and purpose around the club.
The Reds, currently third in the standings, have played a game more than fellow current top-four teams Chelsea, Tottenham and Manchester City, but have a run-in their rivals would envy.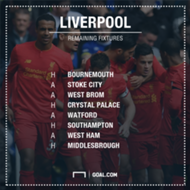 Manchester United and Arsenal, with two matches in hand but six and eight points adrift of Liverpool respectively, are looking upwards wishfully and still have to face each other at the Emirates. 
The Gunners also have a North London derby away plus the hosting of Everton on the final day of the season to contend with.
Chelsea need to tackle both Manchester clubs as well as visit Goodison Park. 
City and United have a showdown at the Etihad on April 27 and the latter has to also travel to Tottenham in the penultimate week of the league season. 
In contrast, Liverpool atop the 'Big Six' league, have already navigated all their blockbuster encounters. Bournemouth, Stoke City, West Brom, Crystal Palace, Watford, Southampton, West Ham and Middlesbrough are the opponents they have left.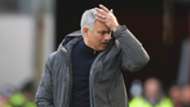 And for all the talk of the club's struggles against the lesser teams, only Eddie Howe's charges of the above managed to get maximum points off them in a mental final 15 minutes at Dean Court. Saints did hold the Anfield outfit to a goalless draw, while the Hammers managed an away point courtesy of charitable defending.
"We have 59 points, we are in a nice position in the table," Klopp offered as a reminder. 
"Yes, a few teams have played less than we have, but they cannot win them all, that's for sure because a few of them play against each other. 
"We are in a good position and I really want to use this position.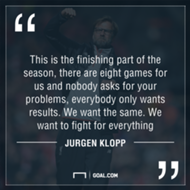 "I said at the beginning of the season that the whole season is pretty much to prepare to finish. 
"This is the finishing part of the season, there are eight games for us and nobody asks for your problems, everybody only wants results. 
"We want the same, we expect results from ourselves and we want to fight for everything.
"That's what we've done all the time, even if maybe sometimes it didn't look like this, but I thought more often [than not] everybody could see that we are really fighting. That will still be like this and for this we need not only an atmosphere in the stadium, we also need a positive mood within the club and around the club because the situation is positive."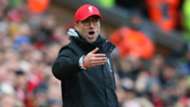 Mane's injury is undoubtedly stifling for Liverpool given they have no duplicate for his direct, speedy, fluid and intelligent attacking style.
He is the club's top scorer with 13 goals across all competitions, a forerunner as their Player of the Season, and is certainly one of the signings of the campaign.
But with just eight fixtures remaining and a return amongst Europe's elite in their own hands, Liverpool need to focus on what they have and what they can do rather than the opposite. 
"As a manager, I can't really remember the last time I had all players available and decisions to make were so difficult that I thought 'oh my God, I'm leaving five players at home and really good players on the bench' because that's really rare," said Klopp.
"So, the only job to do is to play the best you are able to and not think about who you miss and all that stuff. Now, let's go."