Ligi kuu Bara
Ligi Kuu Wrap: Ammy Ninje to coach Kilimanjaro Stars during CECAFA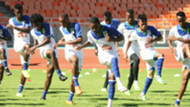 ---
Ammy Ninje to coach Kilimanjaro Stars during CECAFA
---
Salum Mayanga will get a rest during the CECAFA Challenge and the coaching duties will be handled by Ammy Ninje.
Ammy Ninje is no stranger to national team duties having been an assistant to current head coach Salum Mayanga.
Ninje will look to impress with Stars having been landed in a tough group which also includes host Kenya in the forthcoming Cecafa Senior Challenge Cup following the draw conducted on Thursday.
Stars will have to battle for a place into the second round with host Kenya and invited guest Libya, former champion Rwanda and Zanzibar in a tough Group A.
---
Mkwassa asks Kakolanya for patience over sign on fees
---
Yanga general secretary Boniface Mkwassa has asked goalkeeper Beno Kakolonya to be patient as his sign on fees debt is being solved.
Kakolanya joined Yanga from Tanzania Prisons and is still owed by the club hi sign on fee and it looked like the player wanted to take the matter further to seek his fees.
And the club has now moved to make an official statement on the issue to ease the tension between player and club