Ghana
Lamptey is suffering from visual problems, says Yankah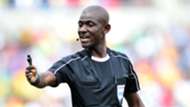 Ghana Football Association executive committee member, Kojo Yankah, has revealed that under-fire referee Joseph Lamptey, who was slapped with a life ban this week by Fifa, is suffering from short sightedness.
The 43-year-old referee was found guilty of manipulation of match results since 2007, with the latest game involving South Africa and Senegal in the 2018 Fifa World Cup qualifiers in November last year.
Yankah, who doubles as Western regional football association chairman, believes Lamptey is a good person despite his current troubles.
"It's very sad that one of the best referees in Ghana and West Africa has been given a life ban. This will prevent him from officiating any game henceforth or becoming an instructor later," Yankah told Sunyani-based Space FM.
"Lamptey has a problem with his sight and it is the main reason why he misses key decisions during games, which has led to this unfortunate ban. The problem with his eye started several years ago and has been persistent. He lost his Fifa badge some years back during a refresher course because of that and only got it later after some treatment.
"You can watch replays of incidents that resulted to the ban and will realise that he is always not close to the incidents, which is why he fails to get decisions correct."
He added: "I will always describe Lamptey as one of the finest referees in the sub-region because he will never accept any form of bribe from football administrators and betting syndicates, even when they plead with him to accept it," he added.