Chelsea
Lampard explains how Hazard has recaptured his best form at Chelsea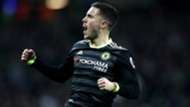 Eden Hazard is back to his best at Chelsea after realising that he does not need to "beat someone twice", according to Frank Lampard.
The Belgian playmaker was named PFA Player of the Year after helping to inspire Premier League glory in 2014-15.
He was, however, to endure a humbling fall from grace a year on as the Blues stumbled their way through a forgettable title defence under Jose Mourinho and Guus Hiddink.
Kante & Hazard only choices for POTY
Hazard has returned to form in some style this season, though, and Chelsea legend Lampard believes that is due to getting back to basics and becoming "more efficient".
He told Goals on Sunday: "For me, there's a new maturity about him – not just on the pitch, but off the pitch. He's doing more interviews, he's speaking English, and those things important when you become a player of his level.
"I think last year, and I am huge Eden Hazard fan, there were times when he was so confident in his ability that he would beat someone twice in midfield – he'd beat them and then beat them again.
"Now, there is a real directness to his play. He's more efficient and getting into areas to score goals."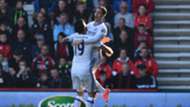 Hazard is well on course to return the English top-flight crown to Stamford Bridge, with Antonio Conte's side seven points clear at the summit.
His ability has marked him out as one of the finest players in both the Premier League and world football, with Lampard acknowledging that he is a special talent.
He added on the 26-year-old, who netted his 17th goal of the season for club and country in a 3-1 victory over Bournemouth on Saturday: "I always name John Terry and Drogba as the best I played with.
"I always mention Zola as well because he was such an influence for me in my first few years at Chelsea.
"But in terms of flair players that I played with, of that type, Eden and what he's doing now is probably the best."