Toluca
La Volpe back where he belongs ahead of Toluca's crucial clash against former club America
Ricardo La Volpe wasn't meant to be sitting at home. 
The 67-year-old has had an outsized influence on the Mexican game, spending time coaching with eight Mexican teams in addition to coaching the national team. During that time he has formed players, given countless future national teamers their first chances and set down the roots for a formidable coaching tree.
After his last stint coaching Club America, he signed on with Pyramids in Egypt. Initially, he was overseeing the sporting side but eventually, he took over as manager before totally parting ways and returning to Latin America. He seemed antsy. Even if his surprisingly helpful relationship advice on Twitter and his tactical analysis on YouTube showed La Volpe was an adaptable content creator, that mustache and the surly face it's attached to belong on the bench.
So when Toluca decided it'd had enough of club legend Hernan Cristante, it made sense to turn to "El Bigoton" once again. With Cristante already a disciple of '"Lavolpismo" there wouldn't be a drastic change to the playing style, and La Volpe would be able to get everything out of players throughout the ranks at Toluca.
The Red Devils were in a situation of crisis. They'd been thumped by Sporting Kansas City in the first leg of the Concacaf Champions League and sat 15th in the 18-team Liga MX. They're now up to 10th and with three weeks left are knocking on the door of the top eight, which would put the club into the playoffs.
La Volpe has suffered just one defeat as coach of the club in five league games, but Toluca still needs to improve. Last week's draw against lowly Queretaro cost the club points it can't afford to drop if it's going to make up the four-point gap that exists between it and the final playoff spot.
That makes this weekend's game against Miguel Herrera's Club America even more important for the Red Devils. 
The manager insisted he's far more focused on what's going to happen on the field Sunday than seeing one of his ex-teams, coached by one of his ex-players. Memories of his previous stint with the club? Hard feelings toward directors? He claims he has no time for that.
"I've been coaching for more than 30 years. I've already forgotten, even the memories. For a long time, I've told my players that they're not playing against a shirt, nor are they playing against names," La Volpe said this week.
"I want to teach my players and transmit the message that you play against systems, that the opponent has a system of play and you have to know how to counteract that. I never think about the shirts, whether it's yellow, green or white. I'm past that stage."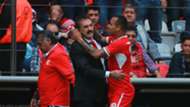 The hardened coach may be past the stage where he worries about rivalries or past stints, but he still has plenty to worry about in the present. Toluca is a club where the standard is still high, and even with many key players leaving in the winter the directors and fans were still expecting more out of Toluca this season. La Volpe's mini-turnaround has given those groups hope that there still may be life in this team. 
"I see Toluca with the same greatness and pressure America has, to always be in the tournament," said Toluca midfielder William Da Silva, who spent several tournaments with America. "Toluca doesn't have the same number of trophies, but it's been in a lot of finals and it has been a team that always shows up to fight.
"Sunday the greatness and the trophies stay out of it. We're coming to defend the crest with our life. We're 11 v. 11 and whoever does things better will get the victory."
That's music to La Volpe's ears. While he's spent time praising America coach Herrera, La Volpe also clearly wants to put the focus on what happens on the field and not the various storylines coming together off it. America is his former team. It comes into the Easter matchup with several injured players and on a swoon of two matches without a victory. But the coach insisted he is only worried about his own side.
In fact, he grew a bit redundant, saying at a news conference, "The three points are very important. It's a key match, and we've got to get three points. I need the team to be concentrated all 90 minutes and it's super important if we have the goal to be in the final eight. The three points are key to get into the Liguilla. It's a very important game."
But it shows you exactly where his eyes are fixed. They're not on anything America is doing. They're on how his team is going to try and take the game to their visitors.
Really, fans shouldn't have expected anything else. The old maestro is back in the technical area, pulling the strings and demanding everything from his players. La Volpe was made to coach.