Premier League
Kusi advises Kotoko management on sacking of coaches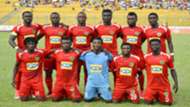 Former Asante Kotoko defender Atta Kusi claims the club has been struggling due to instability in the coaching department.
The FA Cup champions have appointed seven coaches in the last three seasons and reports suggest that current boss Paa Kwesi Fabin could leave at the end of the season following the appointment of a new management.
"I think the various sacking of coaches is really affecting the club's progress and it's not the best," Kusi told Kickgh.com.
"Every new management wants to work with a new coach they've appointed and in effect sack the old one. The new coach will definitely recruit his favourite players into the team since he believes they will be ones to help him succeed.
"Honestly, this process doesn't help the club in anyway and it must be stopped now to help the players also," he added.
Kusi picks Michael Osei as his best coach during his three-year stint with Kotoko.
"Michael Osei is my favourite coach at Kotoko. He liked my style of play. I also liked his coaching philosophy. He likes a defender who can get hold of the ball and attack his opponent," he added.
Kusi currently plies his trade at Liberty Professionals after falling down the pecking order following the exit of Osei.