Kaizer Chiefs
Komphela: Kaizer Chiefs' Hendrick Ekstein can now threaten opposition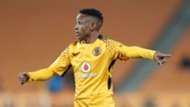 Kaizer Chiefs head coach Steve Komphela says Hendrick Ekstein is not far away from being a complete midfielder.
The attacking midfielder is slowly establishing himself as one of Amakhosi's key players having played an important role in helping the Soweto giants extend their unbeaten run to four matches in all competitions with a draw against Polokwane City on Tuesday night.
"With regards to Ekstein, George (Maluleka) will tell you they are always on his case. There are a couple of things that he needs to complete in his game to be a threatening player. But confidence-wise, he has grown," Komphela told IOL.
"One that I can disclose which he has completed and which is apparent, that is upon receiving the ball, getting turned and going forward and affecting the game," he continued.
"Previously he will receive the ball and play it square and back, without wanting to take the risk. I think now he is wearing a risk cap and it is paying off.
Ekstein, who has featured in seven PSL matches this season - netting once in the process, always captivates his fans with his skills and flair.
"There are things that they are hard on him for, that is to try and eliminate, and that's become a threatening player," Komphela added.
"Ekstein is high with confidence, with the technical ability that he's got, put it at the right place within a tactical approach, he is a big threat.
"Operating in small spaces, I don't know how this guy thinks because unfortunately we are football people, we think with our feet. He is quick, with calculations," Komphela said.
"He is more of a genius. He gets the ball within no time. He just twists things.
"I hope he will get to the level where he is consistent throughout to be complete – even stuff that he needs to rectify," he concluded.