Malaysia
3 more added to Malaysia squad for Chinese Taipei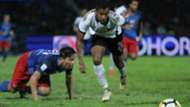 After initially calling a squad of 24 players, Tan has now added R. Kogileswaran, Syawal Nordin and Azzizan Nordin to the squad that will start training on Monday ahead of two away international friendly matches.
Malaysia will continue their preparation towards the 2018 AFF Suzuki Cup later this year with matches against Chinese Taipei (7 Sept) and Cambodia (10 Sept) after recent success of back-to-back wins against Bhutan and Fiji.
Kogileswaran is of course part of the Ong Kim Swee squad that participated in the recent 2018 Asian Games and has had made himself one of the mainstays in Dollah Salleh's Pahang squad.
Syawal is a player that Tan is familiar with having coached him before while still at Kedah. The centre back Syawal hasn't been playing for Kedah in recent Malaysia Cup matches but seemed to be a preferred choice for Tan ahead of his club colleague Khairul Helmi.
Meanwhile midfielder Azzizan has caught the eye after Sabah's impressive performances in the Malaysia Cup and it is good that Tan is using these friendlies as an opportunity to test new players.
It remains to be seen if these three newly added players are replacing anyone from the previously named squad of 24 or if Tan is just giving himself more options to choose from.
What remains a surprise though is the fact that instead of training being conducted at Wisma FAM as per usual, Tan will be taking his team for a 2-day training at University Sains Islam Malaysia (USIM) at Nilai, before departing for Chinese Taipei on 5 September.