FA Cup
Kelantan president defends Yusri, teases massive changes in May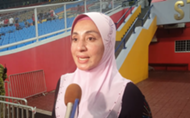 ---
BY        ZULHILMI ZAINAL       Follow on Twitter
---
Kelantan president Bibi Ramjani Ilias Khan has defended the team's caretaker head coach Yusri Che Lah, following their 4-1 defeat to PKNS FC in the FA Cup on Saturday.
Although the Red Warriors' first two matches under the former Malaysia international ended in victories, the subsequent two matches ended in defeats; to the same team.
Last weekend they were beaten by PKNS 1-0 in their Malaysia Super League match, also at the Shah Alam Stadium, while Saturday's cup tie ended in a bigger defeat.
Speaking to the press after the cup clash, Bibi urged the fans to stand by the team as she believes that Kelantan, who are currently in the relegation zone in 11th place, will turn their season around.
"The fans, and myself included, must believe that the defeat is only temporary," said the businesswoman. "As long as we try to improve, then god willing we will succeed."
When asked about the future of Yusri, Bibi responded that the the matter will be discussed with their new technical director; former Syria national team manager Fajr Ibrahim.
Bibi did not reveal who the director is on Saturday, but Sinar Harian revealed the appointment in a report published on the next day.
"I've discussed the matter with our soon-to-be technical director and Mr. Yusri himself. He (Yusri) now has players that were signed by the former coach.
"It is understandably difficult for him to lead the team that way, although I know he's doing his hardest," she remarked.
Bibi then revealed that the club will undertake massive changes this coming May, including a change of foreign players.
"Major changes will be made this May. We will restructure our finances and change our import players. At the same time we still have some time left [before May] to try a few things.
"A lot of Malaysian clubs are facing problems with the quality of their foreigners, so for me, after three, four matches without improvement, we need to make changes," she noted.
Kelantan president Bibi Ramjani Ilias Khan has revealed that the club will undergo massive changes this May pic.twitter.com/Bx6NXD32Ob

— Goal Malaysia (@Goal_MY) March 18, 2018