Manchester United
Mourinho risks losing Man Utd fans if he keeps parking the bus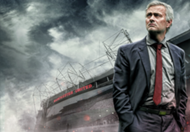 Just 35 per cent possession, and only 25 in the entire first half. No shots before the 45th minute, at which stage they were already 1-0 down. Fewer passes in the full match than their opponents completed in the first half alone.
The damning statistics behind Manchester United's 2-1 derby loss to neighbours City on Sunday ran much deeper than the scoreline itself, and each one only seemed to underline the argument of those opposed to Jose Mourinho's game plan. He had gladly handed over the initiative to the best team in the country and his side had been utterly impotent on those few occasions they actually got on the ball.
United fans have largely been supportive of Mourinho since he arrived at Old Trafford in July 2016, but his reversion to a negative style of play at the first sign of trouble has been the single greatest sticking point in their relationship so far. And after their willing submission for long spells of Sunday's defeat, it feels like a crisis is looming at some point on the horizon.
Having previously used his programme notes to be very critical of the atmosphere at the Theatre of Dreams, Mourinho declined the opportunity to speak about the home crowd ahead of the derby, telling reporters: "I've stopped doing that, I'm not going to write any more words about it, I'm not going to say any more words about it. We are paid to work and to work hard and to give the best we can, not to criticise fans.
"It's the reality of things. I'm paid to try to give them happiness, which is what I try to do every day."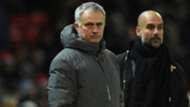 That was an absolutely embarrassing, shambolic display of football today. Gutless, heartless, lack of invention, there not one good thing I can take it of today's game #MUNMCI #MUFC

— PALLY (@PallyK) December 10, 2017
We spend 100s of millions of pounds every summer to produce that kind of football in big games and you man are satisfied? Pathetic. Gutless, feckless football. We will never win the title playing this dogshit brand of football. NEVER. #ManchesterDerby #MUFC

— SEUN (@Dan_Onas) December 10, 2017
@fizzer18 Mourinho will never change. We cannot allow a team to come to old Trafford and let them dominate us like that. He is beginning to loose the supporters. And he still doesn't trust any academy players. He needs to go. Van gaal was also sacked for style not results. #mufc

— suvajit (@suvajitxd) December 12, 2017
But on Sunday, for once, it was the fans who showed up and Mourinho's players that didn't. There was a unique atmosphere about the occasion around kick-off time, with the home crowd showing they were definitely up for the fight against their local rivals. Yet within 15 minutes they had been subdued into silence, not by City's style of football but by their own side's unwillingness to rise to the challenge.
The occasional chants of "attack, attack, attack" were a source of great amusement to the travelling City supporters, and the entire away end was singing "park the bus, park the bus Man Utd" long after the final whistle following a clear exhibition in the vast difference of philosophies between Mourinho and his old enemy Pep Guardiola.
With each big fixture which United approach in a cowering, counter-attacking manner, Mourinho goes down in the estimations of increasingly large portions of the United support. And Sunday's refusal to even look to cause trouble with the ball on the rare occasions they had it during a disgraceful first-half showing was the straw that broke the camel's back for many. There had been an expectation that United would sit and wait for their chances, but the distinct lack of interest in using the ball was a new low.
United have now come up against all the other teams in the top six of the Premier League table and have averaged just 37.8% of possession in those five games. Moreover, they have taken seven points out of a possible 15, with only four from 12 coming in the absence of Paul Pogba through injury or suspension.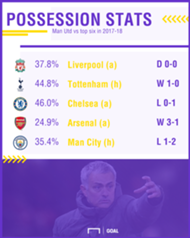 The over-reliance on Pogba is starting to feel like an increasing issue in fans' minds too, with United rarely having looked like a coherent attacking unit during the Frenchman's spells out of the side. They host Bournemouth on Wednesday with Pogba sitting out the second game of a three-match ban, and there seems little hope that United will go for the jugular in quite the same way against Eddie Howe's side as they undoubtedly would with their club-record £89.5 million signing in the line-up.
Manchester United is a club which has become famed in the past 25 years for its success but has been known a hell of a lot longer for its appetite to give its supporters the kind of entertainment on a matchday that they cannot extract from their working week.
In recent games against Watford and Arsenal, despite the long periods of pressure the Gunners enjoyed, there was something to be enjoyed about United's style of play. But just when the fans wanted that to be transposed into the biggest derby fixture in over five years, Mourinho reverted beyond type.
When even Louis van Gaal is left having a pop at your team's 'boring' approach to games, you know that something is wrong. And while the Dutchman's systematic insistence on 'dominating' a game with turgid, insipid exhibitions of sideways, directionless passing gives him no right to castigate Mourinho's brand of football, every Manchester United fan who pays the entrance fee has the right to demand more than their manager was willing to give on Sunday.
It will take more than a dazzling victory over Bournemouth for supporters to forget what happened at Old Trafford at the weekend, but that is the least they deserve. Sitting 11 points off the title pace, United arguably have nothing to lose now and as such have no reason to be anything other than the expressive, attacking, adventurous side their faithful fans want to see.
But if Mourinho continues to deliver performances high on pragmatism and low on courage, he can only make his ailing relationship with the Stretford Enders even worse.