Johor Darul Ta'zim
JDT keen to keep Safawi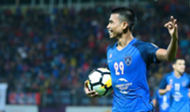 HRH Tunku Ismail Sultan Ibrahim who is also the Tengku Mahkota of Johor (TMJ) told supporters of Johor Darul Ta'zim FC that the club intends keep hold of one of the most precocious young talents at the club for at least the forseeable future. 
Safawi Rasid has been the subject of much transfer talk of late after a season that saw his becoming a permanent fixture at both club and country level. His performances in the AFC U23 Championship for Malaysia U23 in January of 2018 was followed by a fruitful season in front of goal for JDT.
With 12 goals scored thus far this season in all club competitions, Safawi is the current leading goalgetter at the five-time Super League champions and it is a form replicated on the international front as well.
Although Malaysia's gallant run in the 2018 Asian Games came to an abrupt end after a narrow 0-1 defeat at the hands of Japan, Safawi had already plundered four goals from four matches in the tournament as he continues his rich vein of form.
Given his eye-catching performances this season, it is no wonder that Safawi is beginning to gain attention from clubs outside of Malaysia as other leagues around the region and continent begin to open up more slots for Southeast Asian players.
Goal understands that Safawi who was signed from T-Team FC back in 2017 is nearing the end of his contract with JDT but negotiations have already begun to extend his stay with The Southern Tigers.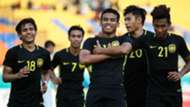 TMJ in his response to questions raised by the supporters on the future of Safawi was adamant that JDT will do all they can to ensure that the 21-year-old stay on with the club unless bigger clubs come in for him.
The JDT owner cited in particular that should clubs from Japan or the top two clubs in Thailand (Buriram United and Muangthong United) are interested in Safawi, the club would not stand in the way of the player.
Previously Buriram are one of the club heavily rumoured to be interested in getting the services of Safawi which could see the Dungun-born player join the likes of Shahrel Fikri and Curran Ferns in plying their trade in the Thai League 1.
If Safawi is to move club, then it would have to be the ones mentioned TMJ for it to be considered a move forward for him. Although should clubs from South Korea or China be interested in Safawi, that would also represent a vertical move as teams from those countries are consistently in the knockout stage of the AFC Champions League.
Whatever he and the club decide, should Safawi keep his head down and keep working hard, the possibility of him being eyed by bigger clubs in Asia will only keep increasing.