AFC U16 Championship
Japan blitz Thailand to open U16 campaign on positive note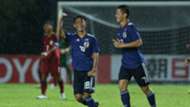 The tournament favourites showed that they weren't to be overawed by the tag hanging around their neck as they came back from being behind early on to earn their first win of the 2018 AFC U16 Championship. 
Thailand stunned Japan after only less than a minute played when Thumsen Thanarin threaded the perfect through ball for Mueanta Suphanat to slam home past Taiki Yamada in Japan's goal to give The War Elephants a shock 0-1 lead.
But the Japanese roared back into contention just five minutes later as Ryotaro Araki pounced on a Thai defensive mistake to grab the equaliser. Araki would be in thick of the action in the 8th minute to help Kuraba Kondo to a tap in for Japan to lead 2-1.
In a rare moment of uncertainty, Riku Handa allowed Suphanat to run through on the assumption the latter was offside but the linesman did not raise his flag and the Thai striker easily put the ball past Yamada for his team's second goal.
Undetered, it was Araki who struck once again in the 34th minute, heading home from Hikaru Naruoka's cross before Handa made amends with his earlier hesistancy by slamming home a fourth for Japan four minutes before half time.
The second half was a much more relaxed affair as both sides struggled to maintain the same intensity as they produced in the first half as well as Japan being more disciplined in their approach in an attempt to protect their lead. 
That said, substitute Shoji Toyama came on late in the game to put the cherry on top of the cake with a fifth goal for Japan, confidently guiding the ball past Taeesri Anuchid to seal an opening day win for the young Samurai Blues.
This match completed the first round of action in Group A as Japan joined Malaysia on full points after defeating their respective opponents. Japan will next face Tajikistan on Sunday September 23 while Thailand will go up against host Malaysia.
Folow  Goal Malaysia  on Instagram