African All Stars
Ivorian forward Coulibaly accuses Al Ahly of treating him like a slave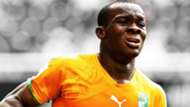 Ivorian forward Souleymane Coulibaly has accused Egyptian club Al Ahly of treating him like a slave, confiscating his passport and making his family feel uncomfortable by practicing their religion.
He also claimed his team-mates refused to pass the ball to him.
This is after the former Ivorian junior international walked out on the Egyptian Premier League champions and traveled to London without the clubs' consent.
Ahly lodged a complaint with Fifa accusing the player of being absent without the permission. 
In a statement issued via his Twitter page, Coulibaly said he had no choice but to walk out on his contract.
"I'm not crazy, I left for a reason," he said.
"I had to flee the first chance I had hold of my passport. They treated me like a slave all because of money.
 "I'm very sorry but I could not stay in that team anymore.
"If Fifa are going to ban me I am willing and ready to accept the ban. My peace of mind and safety are what are most important to me. Sorry."
Coulibaly joined the Red Devils from Kilmarnock at the start of 2017 on a deal just under £1million.
He has played just 12 matches for Al Ahly, scoring six goals in the process. 
Al Ahly have since issued a statement confirming the termination of this contract which was to run until 2020.