Selangor
"It's the path I've chosen" - Syahmi not bothered by lack of break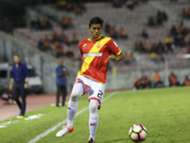 ---
BY        ZULHILMI ZAINAL       Follow on Twitter
---
Despite the fact that he is only 19 years old, Selangor winger Syahmi Safari has been one of the tireless workers in the Red Giants' squad this season.
The youngster has featured in all but eight minutes of Selangor's 13 Super League matches this season, only second to team captain Razman Roslan.
Although the league has taken a one-month break until July for the fasting month and the Aidilfitri celebration break, Syahmi did not get the chance to take a breather like most of his teammates. He, along side his Selangor teammates striker Adam Nor Azlin and left winger Kannan Kalaiselvan has been called up to the Malaysia U22 training camp, with the junior national team set to leave for China this week for three friendlies.
That and the fasting month do not to seem to daunt him however. When Malaysia U22 players underwent a yo-yo fitness test last Thursday evening, Syahmi was the last man standing in his batch (the players took the test in two separate groups).
When asked by Goal whether burnout is something that was on his mind, he replied in the negative, saying that his fitness has in fact been helped by the many games he has been involved in this season.
"(My improved fitness) is because I've been playing a lot, so the match fitness has carried over (to the Malaysia U22 training).
"I didn't have a long break after the Pahang match (Selangor's last league match before the break on May 24), so my fitness level did not drop," he explained.
Many of his Selangor teammates have returned to their hometowns or taken a vacation for the break, so we cheekily asked Syahmi, isn't he jealous of the time off enjoyed by them?
"Of course I'm a little jealous that I get no time off.
"But this is my responsibility, the path I've chosen," he answered stoically.
However, he admitted that when the league resumes in July, around the same time the Malaysia Cup group stage kicks off concurrently, he is likely to be rested in a number of matches, according to head coach Maniam Pachaiappan's squad rotation.
Selangor will face JDT, Terengganu and Sarawak in Group D of the tournament.
"Coach Maniam told us that in July we'll be playing 11 matches in the space of one month, so there'll be player rotation as the gaps between the matches will be too short," Syahmi let on.
Malaysia U22 are set to depart for China on June 8, and will return on June 16.