NorthEast United
ISL 2018-19: NorthEast United's Eelco Schattorie happy with the result but not the performance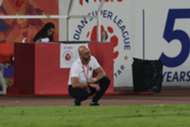 NorthEast United leapt above Goa to climb to the second spot on the Indian Super League (ISL) table after a rather unconvincing 2-0 win against Pune at the Balewadi sports complex.
Mislav Komorski missed the game due to an injury and head coach Eelco Schattorie was happy with the result, given the circumstances.
"I'm happy with this win because we have to play a lot of games in fewer days now. We also had some injury problems which made us line-up in a 4-4-2 formation instead of a 4-3-3. Pune were the better side at first but later I changed some things and shifted to a 4-3-3."
However, the Dutchman was critical of his team's performance.
"This way we had more control over the game. I told the boys to not give up and go for the win. So I'm happy that we got the three points, but not with the performance."
The Highlanders ' boss spoke highly of Federico Gallego and believes that the team is lucky to have an all-rounded midfielder like him.
"I think Bartholomew (Ogbeche) and Federico (Gallego) have a good partnership. All the players want to work together. But I'm more concerned about football. Today was our worst game."
"You don't see many playmakers like Federico who can create and put in the (defensive) work. This is a huge plus for us.
"I can't say where exactly we won the game. You can say that we won it when we scored the goal."
Eelco was clearly not happy with how the fixtures are clustered for NorthEast United.
"Now we have to board a flight to Kolkata and then go to Jamshedpur. We have no time to rest. This is not how I would have wanted it to be. But we can't do anything about it."