Indian Super League
ISL: Bengaluru FC's Albert Roca – Chennaiyin FC were luckier than us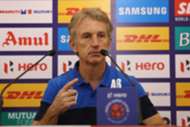 Bengaluru FC suffered a 2-3 defeat at the hands of Chennaiyin FC at the Kanteerava Stadium, Bangalore on Saturday evening in the final of the Indian Super League (ISL).
Sunil Chhetri put the home side into the lead early in the game but then Chennaiyin FC bounced back with Mailson Alves scoring twice. In the second half, Raphael Augusto scored the third before Miku pulled one back late in the tie.
Coach Albert Roca mentioned that his side couldn't come back into the game after Mailson scored from two set-pieces.
"It was a very good season. The last step, it was not our day. We have not had enough strength to come back into the game when it was possible. It is difficult when you are under pressure.
"Everybody knows we finished first, eight points above Chennaiyin FC. We are human beings, the players did an incredible job. I am sad for them and the fans. But that's football," said the former Saudi Arabia assistant coach.
"(It was) quite strange to concede from set-pieces. It was a very difficult moment. We knew how difficult it was to play against Chennaiyin. It was not our day. That's the first goal we have conceded from a corner in the last 25 games but football is like this," he added.
Roca couldn't come to terms that his side gave away two cheap goals from set-pieces. He also rued the fact that Dimas Delgado picked up an injury in the first half which came to hurt them.
"They were right in the two actions that we knew we had prepared. Set-pieces were always a strong point in our game. One of our best players were injured, we defended with one player less. It was a big disaster for us to concede that goals, knowing how Chennaiyin will defend," he mentioned.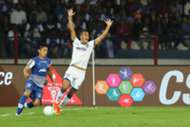 Roca was questioned if the pressure of playing a final at home got to his players given that they struggled to contain Mailson Alves thanks to some poor marking.
"I don't think its pressure. We were controlling the pressure but Mailson scored the two goals and that changed everything. This is football," he said.
Udanta Singh found the back of the net six minutes into the second half which the referee deemed it offside. Roca was asked to share his opinion on the referee's performance.
"Nothing about the referee, they did their game. I have to see the replay to know if there was something wrong. After 50 minutes, I had to risk the changes. I can put the blame on me. It is my responsibility. Sometimes I am wrong, sometimes I am right. 
"Football is like this. Sometimes it is not the players who make mistakes, it is the coach. Perhaps, I did a mistake," he shared his thoughts.
Bengaluru FC shall now turn their attention to the AFC Cup and the Super Cup, which has been criticized by coaches and players alike.
"We now have to be focused in the two tournaments that we have. Tomorrow (Sunday), we wake up with a completely different idea, we are professionals."