ATK
ATK's Steve Coppell: I don't design teams to be defensive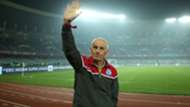 ATK head coach Steve Coppell did not mince words to make it clear that he is not a defensive minded coach.
His previous stints in the Indian Super League (ISL) have earned him a reputation as somebody who prefers to keep it tight at the back rather than looking to outscore his opponents. However, the English coach has said that is not the case.
"I don't design teams to be defensive. For the last two years, I might not have had those players that could give that something extra in the final third. We don't really massively concentrate on defensive work. It is all down to the players you have. Last year we had an attacking threat but it was not of great depth. In Kerala, the emphasis on the squad was perhaps elsewhere.
"I am very happy with ATK's squad. There is an attacking threat with Kalu (Uche), Lanza (Manuel Lanzarote), and Balwant (Singh). It is the duty of the other players to provide these creative players with the delivery on the damaging parts of the pitch when we have the ball.  We would certainly look to go forward when we have the ball. If you look at my record in England all my teams have been attacking based. In England, you get the time to build your own squad with time but in India, it is something different. You work with somebody else's imagination," reasoned the coach.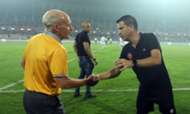 The gaffer also informed that ATK has picked up a few injuries in pre-season and he takes full responsibility for that.  
"We had few injuries in pre-season. Because you have only 5-6 weeks in India the tendency is to push a bit hard. I was a little bit guilty of that in Spain. We have picked up a few niggles and that is my fault. But from now on we would look to repair them.
"Coming into the final week, we would like to have a full squad and in-game injuries, no one can legislate for that. I hope we don't have self-inflicted injuries. I think I have got cover in all positions but it is something that you don't really know until it is tested. I hope it isn't tested. But there is enough depth."
The former Kerala Blasters coach also revealed why he feels that coaching in India is one of the toughest challenges.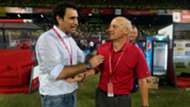 "Coaching in India is one of the biggest challenges. You have players from all continents. Some Indian players don't understand your language. Then you have the foreigners adding to that. You have to try to gel up. That challenge is appealing. I am not a butterfly going from flower to flower. I wanted to stay at Kerala (Blasters) but it was decided by others that I would have to leave. I thought Jamshedpur would be my last (assignment) in India. But this summer after getting bored of golf I got a call from ATK. Knowing the history of the place I took up the challenge."
In the last season,  Eugeneson Lyngdoh was sidelined after he ruptured the Lateral Collateral Ligament (LCL) on his left knee in ATK's third game, away to Jamshedpur. The ace midfielder will be making a comeback in this season but Coppell wants to handle him with care. 
"We will handle him (Eugeneson Lyngdoh) with kid gloves. I am not going to push him much. He is sensible and knows that he cannot be pushed much or too soon. But people recover from the injury 100%. He just needs minutes under his belt and confidence. He needs to go into the tackle and come out of it. The Jamshedpur pitch created the injury but you can see him growing in confidence and he will get stronger as the season progresses," signed off the coach.