Indian Super League
ISL 2018-19: Miguel Palanca pleasantly surprised by FC Goa's quality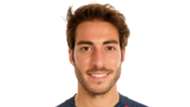 All eyes will surely be on Miguel Palanca and the way he replaces Manuel Lanzarote at FC Goa in season five of the Indian Super League (ISL). 
Lanzarote joined ATK after scoring 13 goals and effecting six assists but more importantly was remembered for his partnership with Ferran Corominas (Coro). He also had a difference in opinion with coach Sergio Lobera who has now brought in Palanca to replace him. 
The Spaniard, in a chat with Goal, stated that Lanzarote might be a better individual player than him but is confident of making a mark in the FC Goa attack. 
"Manuel Lanzarote is a very good crosser and an accurate shooter. I think I also have a good cross and shot but I am a player who likes to play with team-mates. I like passing and one-twos. I think he (Lanzarote) is better individually than me but I play more collective (football).
"Before coming here, I spoke with Coro to ask about the club, the country, life and everything. He explained to me that it (ISL) is a nice championship, the stadiums are very good and the fans are crazy for their teams. This is what is needed to play football," he said.
However, what would work for Palanca is that he has prior experience of playing alongside Coro at two different clubs. 
"When I played with him (Coro) in Espanyol, I was a very young player and he was in the first team. We went to training together many times and I have known him ever since. Five or six years ago, we played together in Elche, had an amazing season and we went to the first division," Palanca recalled.
"Playing with Coro is too easy. He is a very clever player. He makes playing with him very easy and does amazing things. Everybody knows what he did last year and I hope this year he will be the same or better," he added.
The former Real Madrid player is pleasantly taken aback by the quality of his team-mates and the level of Indian football.
"If I am honest, I never really watched any game in the Indian (Super) League but I saw my team in the pre-season and I was surprised. I never thought (expected) the level of football in India was like that (good). They are very good players, they work hard and we can do good things. I don't know the level of other teams but I know my team and I trust in my team," he declared.
Palanca is aware of how his current team fared in the ISL last season and wants to contribute to a successful one this time around. 
"I am not a player who would set targets before a championship. I will try to give my everything to show the best of my football. The club also surely wants to do better than last year where they finished third and lost in the semi-finals. This year we want to do good things and connect with the fans," he signed out on an optimistic note.