Indian Super League
ISL 2018-19: Kerala Blasters' David James impressed with Seminlen Doungel's performance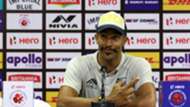 It was the third draw on the trot for Kerala Blasters but head-coach David James was satisfied with the solitary point after the team conceded a goal in the third minute.
James was expecting a goal from Doungel which he didn't deliver. However, a pair of assists from the winger was enough to appease the coach. 

"We made a couple of changes in the first half but they didn't work. Conceding in the first three minutes was not as bad as last year, but when the second goal went in, I thought that it might be worse. I wanted to make a couple of changes in the first half but I let the first half run through. I did tell Len (Doungel) that if he plays he must get a goal. He didn't get a goal but he got two assists which are goals in my books." 

Squad rotations are important and James mentioned that he bases his starting lineups on the training sessions rather than performances in previous games. The visitors could have sneaked in a winner but the Englishman is happy to go back with a point after handing the hosts the vantage point at halftime.

"It was a tough decision not to play him (Seminlen Doungel) because he's been playing well, he's been improving. But we needed to make the.change. We did well after missing the penalty, it was a great save. But we came back and made it even. In the end, we also had a half chance to sneak in the winner. But when you're 2-0 down, you can't expect to win games. I think we deserved the point in the end. I'm happy with the point.
"I think we played well in the second half, got some control. I think things would have been different if we had scored the penalty. Timing is key in football. But after going 2-0 down and missing a penalty I think I'm happy with the point. We put on a good show of determination, confidence and teamwork to achieve this."

The Englishman had respectful words for his opponents and took pride in the fact that they were able to deny Jamshedpur a victory.

"Tim Cahill has scored a header against me a few years ago so I'm not surprised to see him score today. But the mindset of our players changed in the second half. Jamshedpur are a very good side and by ensuring that a team like that doesn't take all three points we did a good job. They will be a tough team to beat as the tournament proceeds."
The circumstances didn't allow Anas to make an appearance but the manager is pleased with how his substitutions worked out and was full of praise for Doungel.

"I would have loved for Anas to play a part in the game but when you're 2-0 down, you don't bring in a defender. So he missed the opportunity of playing a part in the game. I'm very impressed with Len's performance. I think he has improved in a lot of areas since he joined us. I don't think he had a shot but he did his bit for the team."