Pune City
ISL 2018-19: Iain Hume is a welcome addition, says Pradhyum Reddy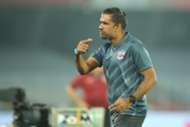 After a 10-day international break, winless FC Pune City host Jamshedpur FC in their eighth match of Indian Super League (ISL) on Wednesday.
Pune are off to a poor start in the league this season. They sacked Miguel Angel Portugal after just three matches due to poor results and interim coach Pradhyum Reddy has not been able to turn the fortunes around. 
Pointing out the positives from their last four matches, Pradhyum Reddy said, "If you look at the last four games, we have scored five goals. So normally that should be enough to win matches or draw a couple of games if you score five goals in four games. In those four games, there were two missed penalties so that could have been seven goals. So our bigger concern is the goals we are conceding and not scoring the goals. That is what cost us the points."
Pune have one of the best squads in the league this season and were deemed to be among the favourites to win the title but their performances have been sub-par.
Speaking on Pune's performances, Reddy said, "On paper, it is a very good team, very similar to what we had last season but matches are not won on paper but won on grass. There are a lot of teams in similar situations. Chennaiyin have pretty much retained the core of their team and are in a similar position.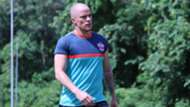 "This happens in football when you don't win some or you don't get the luck in some games and the other teams tend to capitalize. That is when negativity creeps in. You think when my next win is coming. Once you get a win you start thinking about winning more matches."
Ashique Kuruniyan was the only Pune City player who travelled to Jordan with the national side for the international friendly. When asked if the hectic trip will take a toll on the youngster, the Pune City coach said, "Ashique coming in after travelling to Jordan is pretty much the same with other teams as well. It is normal when you go on international duty. After coming back he has had a day off and had time to recover.
"I don't think there is too much effect on Ashique. We missed quite a few players in the ATK game but we don't have those issues anymore. So looking forward to the match."
Iain Hume has finally joined Pune City after staying out of action due to injury. In order to register Hume, the club has already released Emiliano Alfaro on loan to ATK.
Coach Reddy suggested that he is looking forward to welcoming the Canadian striker into the team.
"I am looking forward to welcoming Iain Hume. He is a welcome addition to the team. He is raring to go," said the Pune coach.