Indian Super League
ISL 2018-19: Jorge Costa - I will not allow my players to give up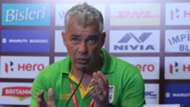 Jorge Costa's Mumbai city were handed a 5-0 thrashing in the Indian Super League (ISL), courtesy of a masterful performance by Edu Bedia. This is the most comprehensive win for any team so far this season but the Portuguese believes that the scoreline does not depict the team's performance accurately.
"When you lose game 5-0, it's difficult to try to explain. I took the risk to play the way we did. Maybe I'm a fool but at the end for history, it will be 5-0. For people who didn't see the game, they will think that we came here to lose."
The 47-year-old churned out the positives from the game and pointed out that Mumbai did create goalscoring opportunities. However, this disappointing display can not be ignored and Costa will need imbibe perseverance into his players for the upcoming challenges.
"In my opinion, we had a very good first half. Before they scored, we had two-to-three opportunities to score. We could have score through Arnold (Issoko). I think in the first half, we had five or six clear opportunities to score. In the second half also we had some opportunities. I'm very disappointed with the result, especially in the last 30 minutes because we gave up. We cannot give up. This profession is very serious. We must be serious from the first second till the last. I know if we lose 2-0 or 5-0, we lose three points. This is our job and I will not allow my players to give up."
Costa is clear that the cracks can not go unnoticed and sent a message to his players that he expects more from them.
"In football, you can win, lose or draw. When you lose, you are not happy. When you lose 5-0, well! I cannot go in the dressing room and say it's okay. We have to know that what we did today is not good at all. They are men who get their salary every month. So they must do better."
The Portuguese is of the opinion that the result would have leaned in his favour had they scored first. But a performance such as Wednesday's doesn't deserve a single point and Mumbai can't expect to dive into mediocrity on such a grand stage and get away with it.
"We knew that they (Goa) will try to build from behind and that they will take some risks. So we tried to press (early on) and we did it. It's not easy for me to say these things when we lose 5-0, but the result could have been different if we had scored. In football, the story about 'if' is (like) if we scored first maybe we could go back home with three points."
"At this level, when you don't score and you make mistakes, you don't deserve anything more than to go home with zero points."