Bengaluru
ISL 2018-19: Dimas Delgado 'excited' for new season
Sooraj Kamath in Bengaluru
Dimas Delgado played a pivotal role in Bengaluru FC's midfield and contributed towards the success the club achieved last season.
The 35-year-old midfielder expressed his happiness to be a part of a team like Bengaluru, who adopts a Spanish style of play. He said, "I am happy to be part of a team which follows the Spanish style of football. I am comfortable in that. Last season, Goa also played a similar style. This season with Carles Cuadrat, we would like to control the ball and build up from there."
He continued, "They (Roca and Carles) know each other and have more or less the same philosophy. So for us, it has been easier to understand. We have to adjust to our new players and try playing the same way."
While there is no doubt about the Spaniard's class on the pitch, fitness could be an issue for the midfielder. He was out injured during pre-season and missed the club's AFC Cup fixtures.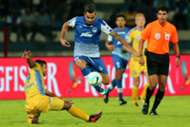 "I am quite excited to start the new season. I feel fit and I have been working for long. In the pre-season, I had a specific work-out plan to avoid the kind of injuries I sustained last season. Hopefully, I can be fit all season. That's what I am working at. I am putting extra effort to take care of myself to remain fit. Just want to help my team and put in my best every day." 
On Bengaluru's pre-season preparations,  Delgado opined, "In pre-season, we did a lot of work on our defence. We faced very good teams. We tried to be compact and play as a team and we will try to put that to practice in ISL."
This season of ISL will have a month-long break in January due to the Indian national team's Asian Cup campaign in UAE. When asked if the midseason break will be a problem for Bengaluru FC, Dimas suggested, "Our staff is working on what we should do during the break. We have to make the most of the international break.
"We have to work harder during that time. We must also keep in mind where we are going at that point in the season and make the most of the break," he concluded.