Indian Super League
ISL 2017-18: Eelco Schattorie - 'Mumbai City didn't see the incident, MY A**'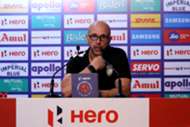 NorthEast United lost their fifth 2017-18 Indian Super League (ISL) game on the trot after going down to Mumbai City FC 3-2 away from home on Thursday. 

"I think Mumbai was the better team. The game was all about control. In the first quarter, we didn't get our organisation right. We got the organisation back after conceding the first goal and later got a lucky goal. We opened a bit too much in the second half. We gave so many balls away which isn't normal. My message of keeping the ball went to waste," explained Eelco Schattorie after the game.
 
The former East Bengal boss maintained that an injury to John Mosquera in the Mumbai box was overlooked by both the referees and the opposition players when Lucian Goian scored the eventual winner in injury time.

"It's not sporting if they overlooked the injury and sneaked in a goal. Yeah yeah, they didn't see the ball, my a**! I apologize for going to their side (to complain). I am not sure what kind of injury obliges the referee to stop the game but for Mumbai to pretend they didn't see it is bull***t," the Dutchman lashed out. 

"Mumbai have more quality than us - it's simple and a tactical point. Even I like to press forward and play football but you have to adjust with what you have," he said while comparing sides.

With only one game to go in the regular season (away to fellow strugglers ATK), he hoped to see some improvement. "We have some time to repair now. In the last part, we didn't get much time to rest and train. I know it's for all teams but it makes an impact on us too. We will keep full hope in what the last section of the tournament brings for us," he signed off.