Indian Super League
ISL 2017-18: FC Goa's Sergio Lobera - We cannot be so open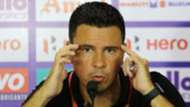 FC Goa coach Sergio Lobera saw his side give up the lead twice in 2-2 home draw against Avram Grant's NorthEast United FC in an Indian Super League (ISL) clash on Sunday.
The Spaniard could not hide his disappointment with the result and said: "I cannot be happy with the one point at home."
Winger Brandon Fernandes had to be replaced after suffering an injury in the 13th minute of the match itself and the Goa tactician said that the change had played its role in the final outcome.
"It made quite a difference. There were two players from the right side who were missing today. One (Seriton Fernandes) was red-carded in the last game. And then obviously, with the early change, we had to make a lot of changes to adjust to our system," he explained.
Lobera had been incensed that the referee had blown the final whistle with a minute of injury-time remaining and said that he was not alone in that regard.
"Not just me (who was disappointed). The other coach was also upset with the fact there was one minute less. You can make mistakes when it comes to a penalty decision or a foul or something like that but not with the time. The fourth official did confirm that the time was incorrect on his watch and he said that he will tell the referee but I don't know when. Maybe tomorrow morning," he quipped.
Lobera stated that his side cannot afford to be as lax after leading as they were during Sunday if they want to make an indent in the ISL.
"I think there is a little bit of experience lacking in the team in that sense. When we were not actually at our best and ended up scoring a goal, we should have been a little bit more attentive to ensure we didn't allow them to score as easily as we allowed them to score. Sometimes we concede goals because we take a lot of risks but it wasn't the case this time. If we want to be in the top four, this can't happen. We cannot be so open," the Spaniard said.
Asked if fatigue had played a role in the result, Lobera replied, "If we're tired now, considering that we have about five more games to play in the last two weeks, it would be very difficult."
"I don't think it would be a case of being tired. We conceded goals that we shouldn't be conceding," he added.