Indian Super League
ISL 2017-18: FC Goa's defence undoes the good work of Corominas and Lanzarote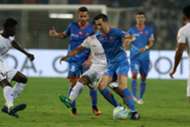 If you have scored 29 goals in 12 matches in the Indian Super  League (ISL), your team deserves to be in the top four. If you have two of the best attacking players in the league, namely Ferran Corominas and Manuel Lanzarote, you ought to be placed much higher than fifth.
Just imagine if Goa had better personnel in their defence or a proper defensive midfielder in their system, their position in the league standings would have been better.
Despite all of their attacking flair, it's their defensive organisation which keeps letting them down.
While FC Goa coach Sergio Lobera may point that their style involves taking risks, at some point you have got to sit down and analyse why the team is conceding goals against every team.
Surely something is wrong and needs to be fixed. As mentioned earlier, the run-in for FC Goa at this stage of the season is one of the toughest. They travel to Bangalore, Pune and Jamshedpur while play hosts to Chennaiyin FC.
Also, Ahmed Jahouh, Manuel Lanzarote and Edu Bedia are on three yellow cards. Expect the trio to pick at least one card in the next three games and miss a crucial match.
Yes, they lost Brandon Fernandes to injury and Seriton Fernandes not in the matchday squad due to suspension but at this stage of the season, you have got to adjust.
Add to this, they did not have Mark Sifneos due to work permit concerns and whether he would be able to play in their next match remains to be seen.
Certainly, FC Goa are the most entertaining team in the ISL. They have the best attack and do concede some comical goals.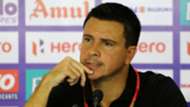 Probably for the very first time this season, Sergio Lobera has publicly acknowledged that his defence needs to be worked on. Their chances of making the cut in the top four certainly remain in their hands but given their tendency to switch off in defence, their brilliance in attack will not always save them.
As an opponent, you only have to win the ball from Jahouh or go beyond him, the rest of the players fall like a pack of cards. This was best demonstrated by Mohammed Ali in the manner in which he went towards the goal-line as opposed to marking John Mosquero.
The mood in the stadium changes from content to chaotic as fans are literally being given a ride on a rollercoaster. Yes, some of the personnel in defence they have at their disposal is certainly not the best, rather less than average, and for that Lobera isn't responsible. However, he needs to provide them more protection given the fragile nature of their back-line.
NorthEast United, a team which had scored the least number of goals alongside ATK before the game, were allowed to have 10 shots from inside the box. They even had more shots on goal than FC Goa.
In 2018, Goa have only won two games out of six, with one of them being marred by refereeing controversy against Jamshedpur. They aren't in the best of form.
Lobera needs to get a positive result in Bangalore else the going would get very difficult for the Virat Kohli co-owned side.