Indian Super League
ISL 2017-18: John Gregory: Chennaiyin not as prolific as Goa but defensively stronger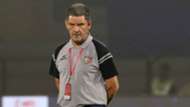 Chennaiyin FC were the third team to make it into the playoffs of the fourth edition of the Indian Super League (ISL) where they face FC Goa at the Fatorda stadium in Goa on Saturday.
The two sides will play the return fixture of the two-legged semi-finals at the Jawaharlal Nehru stadium in Chennai in four days, on Tuesday.
John Gregory, the head coach of the Super Machans, has maintained that his side have delivered in big games this season. "It wasn't an accident that we finished second in the league and that we won away from home in the manner we did in Bengaluru, Goa, Pune (FC Pune City) and as well as Jamshedpur this year. But, we also lost against NorthEast (United). So we seem to get up in the really good games this season when it's a must-win situation for us," he continued.
"We deserve to finish in the position that we did (second) in the regular season and we earn the right to come into the playoffs. Now everybody starts from scratch. The points don't come into play. It's purely the semi-finals and the one final, and we're ready for it."
The ISL has introduced the away goal rule for the semi-finals this season, something that the former Derby County manager is a fan of.
"When I was playing, it was decided by a toss of a coin. So things have progressed a bit from our days. So yeah, I'm a fan of the away goal rule before penalties; but then, of course, if it goes to penalties, I'm a fan of that too. There have been some amazing outcomes from the penalty shoot-outs," said Gregory.
"It's very important if you get an away goal as it gives you a big advantage. You need to be aware of the consequences. If you win 2-1, it's a huge advantage for you. We've had some of our best performances this season and we're hoping we are going to have another one tomorrow (Saturday)."
The former Aston Villa midfielder took reference of the first semi-final between FC Pune City and Bengaluru FC which ended in a goalless draw and highlighted the importance of scoring against FC Goa.
"Even Bengaluru struggled to score the other night which is rather unusual. Pune scored an away goal against Bengaluru in the previous tie so that shows you how important it is to keep a clean sheet in your home leg. In Goa's case, I'm sure Goa will try to keep a clean sheet," he pointed out.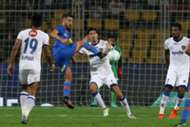 On the same note, with his team recording as many as seven clean sheets this season, Gregory is proud to have a consistent back four in Inigo Calderon, Mailson Alves, Henrique Sereno and Jerry Lalrinzuala.
"The three foreigners (Mailson, Sereno and Calderon) at the back have been the most consistent players this season. They performed very well in most matches. You cannot forget Jerry at left back. He's progressed with the three boys alongside. We build our team around these three guys and they've put in excellent performances. So far it's worked for us and hopefully it will work for us in the three more games left in this season," he observed.
Jeje Lalpekhlua, who has gone listless in the last five games, has so far scored seven of the club's 24 goals this term but Gregory is of the opinion that his side's lack of reliance on individuals gives them the edge.
"If you look at goalscorers, I think we got about 11 different players who have contributed at different stages of the season. Obviously, in Lanza (Manuel Lanzarote) and Coro (Ferran Corominas), Goa have two outstanding goalscorers. Even though Lanza is more of a midfielder, he is a great finisher.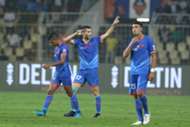 "Give him (Lanzarote) one opportunity, he'll take it. Give him two opportunities, he'll take it again, which he's done on many occasions this season. That's the beauty of the Goa team - when you need to score, someone or the other steps up and scores.
"We haven't relied on one individual. We're not as prolific as FC Goa, but at the same time, we are defensively stronger than Goa who have had two clean sheets, one of which was in their last game against Jamshedpur when they were down to 10 men. I'm still happy. We actually finished the regular season in the second position which compliments our team in particular. We are hard to beat. 
"If we probably had someone who scores the number of goals like Coro this season, we would have won the league back in December," the 63-year-old concluded.