Indian Super League
ISL 2017-18: Chennaiyin FC's Jerry Lalrinzuala relishing the challenge of playing with three foreign defenders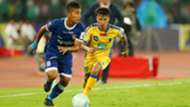 Chennaiyin FC have several young Turks in their squad who could go on to form the backbone of the national team in the future in the form of Anirudh Thapa, Germanpreet Singh, Jerry Lalrinzuala, Baoringdao Bodo etc.
But left-back Jerry Lalrinzuala has clocked the most minutes this season for John Gregory's outfit after building on a breakthrough season last time around where he was named the Indian Super League (ISL) Emerging Player of the Year. 
The shy youngster has featured in all but one game for the Marina Machans this time around. He was rested for the final league game against Mumbai City FC after the team had already qualified for the play-offs. 
"Last year and this year is very different for me. I needed to focus more this year and it has been very tough," said Jerry to Goal in an exclusive interview. "I was given the Emerging Player of the Year award last season and I want to try and win it this year too. 
"I think this year, I have improved a lot and I have more confidence in my game than I had last year. The coach also told me he wanted to make me the best left-back in India and he gives me a lot of confidence. The team is playing well and we've been sticking together. The fact that we are doing well has given me more confidence," he adds.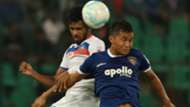 Jerry is still just 19 years old and finds himself being the lone Indian defender in a backline which has developed a reputation for being mean and stingy. Chennaiyin have conceded just 19 goals in 18 games and are the third best defensive outfit, statistically. But young Jerry has stood his ground admirably among the likes of Inigo Calderon, Henrique Sereno and Mailson Alves. 
"It is very nice for me because they are three foreign defenders and I'm the lone Indian among them. They help me a lot and give me advice. Some teams play only one or two foreign defenders. But we have three foreign defenders and it gives me confidence that I am the only Indian chosen to play with them," he states. 
Jerry also credits coach John Gregory for his consistency this season and also gives a huge thumbs-up to his support staff headed by assistant coach Mark Lillis. "The coach helps me everytime and during pre-season he helped me a lot.
"After the matches, he takes a look at the videos and tells me where I should improve. The support team is also very good. They tell me what to do every time and I have the freedom to approach them. It is very good for me.
"My first job is to defend first but the coach tells me when to attack and defend at times. But my priority is to defend. But Inigo (Calderon) is also very good at attacking. So when he goes up the pitch, I need to stay back," says the left-back who has been displaying a sort of maturity on the field that belies his tender years. 
The former DSK Shivajians player has already made his international debut when he came on as a substitute for Narayan Das during a friendly against Nepal in June 2017. He aims to keep getting selected by Stephen Constantine and targets making it to India's 2019 AFC Asian Cup squad. 
"My aim is to play for the country and do my best. There are very good players at my position in the country.
"There is Subashish Bose and Nishu Kumar also at Bengaluru FC. It is going to be tough for me to play for India but I'll try my best to stay in the team. I need to play every match with utmost effort to stay in the national team."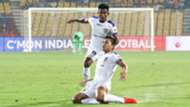 The Mizoram-born lad was picked up by Chennaiyin FC after impressing in the various age-group teams for India. But he was identified as a potential star by the All India Football Federation (AIFF) after the U14 nationals in Kolkata while playing for Mizoram. 
"I was picked up for the India U14 side from the Mizoram U14 team. We came to play the nationals in Kolkata and five of us from my state were picked up including me. Then I played for the India U16, U17, U19 sides and then they selected five players to go to France to train at FC Metz. 
"We went there and practised for one or two months. But then, Chennaiyin FC came with a contract and AIFF told me If I want, I can sign for them. I did so," he revealed. 
"The facilities you get in the ISL are very different from the I-League. I have played in both and the facilities in the ISL are much better," admits Jerry who has turned out for DSK Shivajians in the I-League last season while on loan from Chennaiyin FC. 
Jerry, who adores Real Madrid full-back Marcelo, also shared how his family have now warmed up to the fact that he is a professional footballer. 
"I didn't think that I would play football. My family did not allow me to play football much but we would go for footballing trials without telling them. But after I was picked up by the state team for the U14 side, they started liking football. Now, my family loves football." 

"