Indian Super League
ISL 2017-18: Chekiyot Vineeth and Kerala Blasters headed for a divorce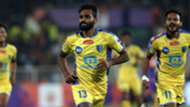 It was on July 5th, 2017 that Kerala Blasters announced the signing of Chekiyot Vineeth amongst much fanfare. The striker was being paid a salary of INR 1 crore per season until the end of 2018-19.
The draft rules (before the ongoing season) mentioned that each club had an option of retaining two Indian players (over the age of 21) from their current squad. Bengaluru FC opted to retain skipper Sunil Chhetri and Udanta Singh to check the box regarding rule over player retention, which meant that CK Vineeth was available for Blasters to sign. CK Vineeth previously played for the Yellow Army in the last two editions of the Indian Super League (ISL) but had been on loan from the Southern Eagles.
Vineeth scored 21 goals in 85 matches for Bengaluru FC where he won two I-League titles.
"Here I am again, Kerala! Let's make this right. Super happy to announce that I have signed for Kerala Blasters for the upcoming Indian Super League season. I absolutely cannot wait to see the frenzy in the stadium once again, that sea of yellow, that roar that follows every goal. To put it simply, I cannot wait to be back home," was Vineeth's message.
But Vineeth has not had the best of seasons this time around though he has contributed four goals to the cause. If his presence in the team last year was nothing short of talismanic, this year it has been far from it. 
According to sources close to Goal, Vineeth and the club have agreed that the best course of action is to part ways.
For the last week or so, Kerala Blasters management have offered Vineeth to other ISL franchises with an assurance of no transfer fee being involved.
It remains to be seen which franchise is keen to avail his services or will he eventually continue at the Kochi-based club next season?