Indian Super League
ISL 2017-18: Alexandre Guimaraes - 'Didn't see the situation before Lucian Goian's goal'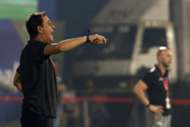 Mumbai City FC notched an important 3-2 win over NorthEast United in their final home game in the 2017-18 Indian Super League (ISL) and are now three points shy of fourth-placed Jamshedpur FC with two rounds to go.

Head coach Alexandre Guimaraes revelled in the victory which kept their play-off chances afloat. "I have to say I'm very very proud of my players especially because it wasn't easy to get over the situation we had. We started well with a goal advantage but slowed down later through which the rivals profited," said the Costa Rican.

"Later, I told the boys to continue to adjust things and keep going ahead as we aren't out yet. It was a goal in a good moment which stopped me from making a suicidal decision. Even in the final minutes, we put in the effort. I'm extremely happy because now we go to Delhi with a chance. It's a different mindset now and we'll have Balwant Singh back which is good news," he added.

"I told the boys to reorganize at halftime and not to lose our defensive positions. We made adjustments in defence and midfield and got a player closer to Rafa Jorda which worked well for 2-2. After that, I told them to manage the situation and push for the third; we didn't lose our shape anywhere and continued to attack."

His counterpart Eelco Schattorie alleged that Mumbai City FC players and the referee did not see John Mosquera going down injured in the other box before Lucian Goian's injury-time winner, stating the move for the goal should not have happened in the first place.

To this, Guimaraes stated, "I didn't see the situation before the third goal; I realized only when Eelco came close to me. I was so focused on our own half. When you start to fall down, then everybody loses credibility just to waste time. I didn't notice the thing but if players from both sides had started to understand that then these situations could've changed. I don't know."
 
After having lost four home games on the spin, Mumbai turned it around on Thursday. Defining the mood in the camp, the gaffer commented, "Going to Kolkata after losing two at home was...I wouldn't talk about it. Then to go there and win against a team which is tough to beat at home.

"Then winning tonight, the players have more faith now. They know now that they have to think about Delhi; It won't be an easy one because they showed to Goa what they're capable of. We need to recover well and check the fitness of players."

"NorthEast have been playing well too and this shows that every game in ISL is unpredictable. They came here and played very clean. They came here to compete and it makes the match exciting," he concluded.