England
If England don't win the World Cup, it won't be because of Shelvey snub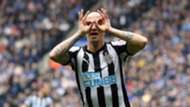 Has there ever been a more underwhelming England squad announcement?
Gareth Southgate confirmed his 23-man World Cup selection on Wednesday and, perhaps in keeping with the mood around the national team right now, there were very few thrills and few very spills.
And very few surprises, with the exception perhaps of Trent Alexander-Arnold of Liverpool. Joe Hart and Jack Wilshere have both been left out but the former has been dreadful for the past two years, while the latter is as injury-prone as they come.
Indeed, the omission of Newcastle midfielder Jonjo Shelvey has probably been greeted with greater disapproval, which really says it all about the lack of options at Southgate's disposal. How can the lynchpin of the Premier League's 10th best side be overlooked?
Welcome to England, 2018!
He's been in decent form, Shelvey. He played a key role as Rafa Benitez's side steered themselves to Premier League safety. In fact, he's probably playing the best football of his career.
Benitez is a fan and believes the 26-year-old deserves to go to Russia for his performances over the course of the season. Alan Shearer, a St James' Park regular, is another who has nailed his colours to the mast.
"We haven't got many, if any, players who can do what Shelvey has done for the last five or six months," said the former England captain. "He's great for a forward, because he looks forward every time."
Admirable support, but the understanding from England is that Shelvey was never likely to make the cut. Whatever his form over the past few months, it seems Southgate has made his mind up on this player.
The last of Shelvey's six caps came in 2015; since then the likes of Jake Livermore, Jack Cork, Lewis Cook, Harry Winks, Nathaniel Chalobah and Fabian Delph have all had call-ups.
Unfair? Possibly. Certainly England are not blessed with a plethora of high-class midfield players at present. Shelvey is a better passer of the ball than any of those players, yet Southgate has resisted the urge to bring him in, even when his squad has been decimated by withdrawals.
Shelvey's reputation is counting against him. Southgate, it is understood, has doubts about the former Liverpool man's discipline and temperament, and was unsure whether he would be suited to spending a month away with the squad in what is sure to be a high-pressure environment. The word from his spies was that Shelvey may not be the ideal tourist.
That's his call, and the kind he is paid handsomely to make. And while Shelvey's talent has rarely been in question, his mentality frequently has. The mud of his younger years appears to have stuck.
Liverpool always felt there was a high-class player there. Kenny Dalglish raved about the former Charlton man's technical ability and liked the edge he brought to his game, while Brendan Rodgers used him 32 times in his debut season at Anfield – including once, memorably, as a No.9 down at West Ham.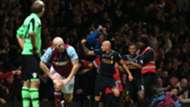 The trouble was, they saw him make the same mistakes again and again. They told him what not to do and watched him do it. They saw him dive into silly, reckless tackles, vacate the midfield to go chasing the ball or surrender possession with ambitious, ill-conceived passes. When they came off, they looked spectacular, but how often did they come off? Not enough. Shelvey was sold to Swansea in 2013.
Benitez certainly believes he has seen a new side to Shelvey this season, one more willing to listen and to learn. The Spaniard is one of the game's most demanding coaches, particularly from a defensive point of view, and there have been marked improvements in his midfielder's game in that respect.
Newcastle generally had around 41 per cent of the ball in games this season, so positional play, concentration and composure – never Shelvey's strong points – have been needed.
Regular visits to a psychologist appear to be helping. Shelvey now carries around a black book in which he details the good and bad parts of his day, whether on the pitch, the training ground or the golf course. "It's a good practice to have," he says. "It's second nature now."
And yet the mistakes stick in the mind. Shelvey started the Premier League season with a red card for stamping on Tottenham's Dele Alli. His side were drawing at the time and ended up losing 2-0. "It was a write-off," he said. "Like when you smash your car up." Shearer, meanwhile, labelled him "an embarrassment to the club."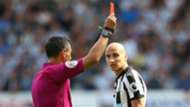 There was another red card against Everton in December but, in fairness to Shelvey, his disciplinary record has improved since. There has been just one yellow card in 2018 so far, and that came in an FA Cup tie against Luton. Newcastle played some high-pressure games in the Spring, but he kept his head.
"People have got this thing that I'm a hothead," he says. "But it is what it is. No matter how much you try and change it, as soon as people have got a perception of you, they stick to that."
Southgate, it seems, falls into that category. He believes the darling of Tyneside is a risk not worth taking. He wants high-energy, he wants pressing, he wants dynamism and he wants reliability rather than mavericks. Shelvey, then, misses out.
Whether he is proven right or wrong remains to be seen. One thing is for sure though; if England don't win the World Cup this summer, it won't be because Jonjo Shelvey isn't in the squad. It'll be because he's even in the equation.