England v Iceland
Iceland team are their nation's army - Hallgrimsson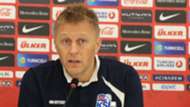 Heimer Hallgrimsson says his Iceland team are the closest thing the country has to an army and believes that victory over England on Monday would change the lives of his players forever.
Hallgrimsson and co-coach Lars Lagerback have led the nation to a first-ever major tournament at Euro 2016 and qualified from second place in their group to earn a Round of 16 clash with England in Nice.
And while some have harked back to the Cod Wars which took place over fishing rights between the two countries in 1958 and 1976, Hallgrimsson says that it is now the Icelandic football team providing the nation's strength.
"I think [the Cod Wars] is the only time we went to war. We have too few people, and we'd lose immediately if we went to war. These guys are the Icelandic Army!" he told a pre-match press conference.
"We've said previously that this game is a win-win game. The players have already won the hearts of all of Iceland with their performances. If we beat England, their lives will change, and all of our lives with change significantly. Icelandic football will go up in reputation.
"If you want the best in life you must take the chances that are there for you, and Monday represents that for us."
Midfielder Gylfi Sigurdsson played with a number of England stars during his days at Tottenham before moving to present club Swansea, but he admits that while it will be fun to catch up with old friends the prospect of playing such a major fixture for his country is a far bigger attraction.
"I'm looking forward to it. I'm playing against some former team-mates in an international game. But I'm playing against England in the last 16, and that's what I've always wanted," said the 26-year-old.
"I keep in touch with the three Tottenham players that were there then, but it will be good to play against them.
"It's a very important game for the team and for the country as well. I'm pretty sure the boys know most of the England players anyway so they don't need input from me."
The two sides meet in the final fixture in the last 16 on Monday at 21:00 CET at the Allianz Riviera.
Goal journalists are powered by the Samsung Galaxy S7 and Gear 360