International Champions Cup
ICC 2018: Arsenal star Petr Cech excited to play in Singapore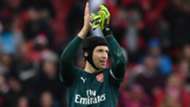 Star Arsenal goalkeeper Petr Cech is no stranger to Singapore, given that he was part of the Gunners' team which visited the island nation for the International Champions Cup (ICC) in 2017. 
The 36-year-old is set to return to Singapore again for the upcoming edition of the ICC where Arsenal are set to contest two blockbuster fixtures against Ligue 1 champions PSG and Europa League winners Atletico Madrid later this month. 
Cech, vividly remembering his visit to the National Stadium in Kallang, is expecting packed houses for the games and does not hide his excitement in playing at the venue again. 
"What makes it exciting for me to play in Singapore is our fanbase over there. I have played there already and I can see how much the game means to our supporters there. This time, we play big teams in PSG and Atletico Madrid. So I think the excitement will show in the stadium and I'm looking forward to the game," Cech said. 
Arsenal face off against Atletico Madrid on July 26th while they take on PSG two days later. Book your tickets for the games here.
The former Chelsea custodian also remembered his first ever penalty save for Arsenal earlier this year against Watford when he kept out Troy Deeney's kick. 
"It was a special moment for me because it was at home at the Emirates stadium. It was my save in the Premier League after facing 15 penalties, so it made me happy. It was also an important save in the game." 
Watch the Czech international in action during the ICC 2018 LIVE.