Arsenal
'I want to be an Arsenal legend' - Nelson out to join list of Gunners greats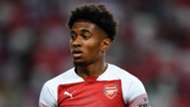 Reiss Nelson is determined to become "an Arsenal legend", with a loan spell at Hoffenheim considered to be a stepping stone on his ascent to the very top of the game.
The 18-year-old forward has been allowed to head out of Emirates Stadium amid fierce competition for places.
He is, however, held in high regard by those in north London and was handed a new contract before completing a switch to Germany.
Nelson has thrived amid regular minutes in the Bundesliga, netting six times so far, and is considered to have a bright future ahead of him.
The England U21 international is determined to fulfil that potential with the Gunners, telling BBC Sport of his ambition: "Arsenal are my boyhood club. I've been with them since I was eight, so that's 10 years.
"I just want to go back there stronger because at the time I was at Arsenal I was 16, 17 and I didn't feel confident.
"I didn't think I was a man, but now I'm feeling stronger and I think a couple more months or even a year in Hoffenheim will make me strong and give me the belief and confidence to go back to Arsenal and do very good there.
"I want to be an Arsenal legend. And, for England, it's the best. You can't beat playing for your country I don't think."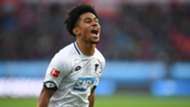 Nelson is convinced that he has chosen the right career path in leaving Arsenal to experience life outside of England, with time in Germany helping to mould him into a more complete player.
He added: "For me, I always want to be the best player I can be.
"I'm 18 and I thought going to the Bundesliga will give me a challenge and doing that would make me become a better footballer and a better person as well throughout life.
"I wanted to challenge myself and see what I could do. It's going well so far.
"It's incredible. But I've just got to keep it up. It's not just for the six games, I've got to do it throughout the season.
"I don't know where it's going to take me, but I've just got to keep my feet on the ground and keep positive."