I-League
I-League 2017: Shameful scenes mar Bengaluru's sojourn in Churchill Brothers' homeland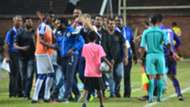 It was only supposed to be a competitive I-League round five football match between Churchill Brothers and Bengaluru FC, at the Tilak Maidan, in Vasco, on Friday, 27th January 2017.
But the 'spectacle' that unfolded before the viewers of India's top division will have shocked even the most passionate fans. 
It all started in the 84th minute when John Johnson, evidently fatigued and struggling with injury, came through with a flying tackle, one that the referee considered too dangerous, on Richard Costa. The Bengaluru defender was immediately given his marching orders with a straight red card.
Injuries, poor performances from star players clip Bengaluru FC's wings
As the Englishman walked off the pitch, the assistant coach of the home side, Alfred Fernandes, walked over to the edge of his technical area and mouthed something to the departing 28-year-old that incensed the central defender. Churchill's stand-in gaffer later claimed he'd only asked why Johnson went through with such a threatening tackle.   
Be that as it may, Johnson was ticked off by the Goan's words, enough to retort back at the Churchill technical area. What was to be a minor scuffle, broke out into a huge kerfuffle when Johnson went forth and choked Fernandes.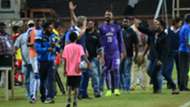 To fans' dismay, the large combustion of bodies received another spark when Juanan, separating the warring duo, fell down after Fernandes was alleged to have kicked him. Interestingly, Fernandes went down on the ground for a couple of minutes holding his head as if he had been assaulted.
Almost immediately, players of both benches were ensnared in the bout on the sidelines, evidently with a huge amount of shoving and pushing going about. By some accounts, the security staff responsible for the upkeep of the stadium's protection were involved on the pitch separating the coaching staff and players of both teams. 
Albert Roca stated it was a shameful day for football in his post-match analysis. It certainly took a turn for the worse when fans inside the stadium became involved. Some supporters of the Red Machines took exception to the champions' demeanour and resorted to pelting the pitch with water bottles. It was only after Churchill's players directly interfered and pleaded with them, that their anger ameliorated.
No doubt, the Disciplinary Committee of the All India Football Federation (AIFF) will look at the shambles of last night with a frown and seek to ensure such an incident is never repeated.