I-League
I-League 2017: Bengaluru FC's Albert Roca - 'It's a shameful day for Indian football'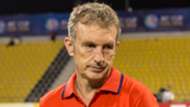 After a shocking 2-1 reverse away defeat to Churchill Brothers in a round five I-League clash at the Tilak Maidan in Vasco, Bengaluru FC coach Albert Roca tore into the assistant coach of the home team for getting involved with his players after John Johnson was shown a red card late on. 
"First of all, I would like to say that it's a shame for Indian football today. I've never seen a coach (Alfred Fernandes) a coach kicking a player (Juanan). I hope this coach never coaches again in India," he fumed. 
When asked about Johnson's reaction after his red card in the 84th minute where he was seen pushing Alfred Fernandes, Roca said, "Football players get red cards. That is normal and the referee was there to control the situation. But a coach can never instigate a situation. He cannot kick a player of my team. Churchill Brothers doesn't deserve this coach. We will file a complaint." 
Re-LIVE: Churchill Brothers 2-1 Bengaluru FC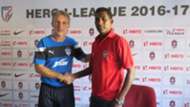 The former Barcelona assistant coach then went on to label Alfred Fernandes a clown. "What I saw today is not acceptable. It was a clown (Alfred Fernandes) trying to make a situation there," Roca lamblasted.
But the 54-year-old did admit that Johnson deserved to get sent off for a foul on Richard Costa. "Johnson was a bit injured and unfortunately the striker was a bit quick. It's a red card. Okay, but it's not that we were frustrated because of that," he said.  
"We were under control after the first goal and then we made a mistake. First couple of proper attacks and they scored. We could score a second goal but we lost control as it happened in Kolkata (against East Bengal). Churchill defended well with almost nine men behind the ball," the Bengaluru coach added. 
Roca was also quick to point out that the referee Ranjit Bakshi could have given his team more time at the end of 90 minutes. "Almost 10 minutes were wasted but the referee gave only four minutes added time," he said in exasperation.