I-League
I-League 2017: Aizawl's Khalid Jamil wary of 'experienced' Chennai City FC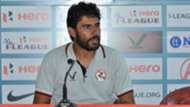 Aizawl FC are coming into their round five I-League clash against Chennai City FC on top form, having gained 10 points from 4 games. They are placed third on the table while their opponents are languishing at the wrong end of the table. But Aizawl coach Khalid Jamil is not taking the South Indian side lightly, especially after their plucky performance against league leaders Mohun Bagan. 
"Talking about this game, we are playing a solid team under Robin (Charles Raja) sir. I saw them play last game against Mohun Bagan. They played well. We're not taking this game lightly at all. We will play our normal game tomorrow," he expressed. 
Fernandes: Johnson hit me; Bengaluru players pushed me
"I've seen all Chennai City matches that were telecast. They played good football. They are strong defensively with some experienced players. They have good foreign players and they have mature senior Indian players. It will not be an easy game," the 39-year-old added. 
He went on to point out that the I-League debutants have several experienced Indian players and as such the inexperience of coach Robin Charles Raja, who is managing at this level for the first time, will not matter. "They have Debabrata (Roy), (Dhanpal) Ganesh, Denson (Devadas) etc - A lot of experience. It doesn't matter that the coach is in his first season in the I-League. We will have a tough game."
He also confirmed that he has a full squad to choose from while Chennai City coach Robin Charles Raja revealed that their captain Dharmaraj Ravanan is a doubt for this game.
But Robin Charles Raja expressed hope that his players will be able to get a result on Saturday despite their shortcomings so far. "The boys are gelling well after playing together. We played a good game last time. We are worried about the results. Hopefully, we get the right result on Saturday," he said. 
The former Tamil Nadu state coach did admit that their team had a problem scoring goals. "We will definitely do well. But goals are a problem and we need them. But we are getting better with each game," he stated.