I-League
I-League 2017-18: Minerva Punjab's Khogen Singh: We don't need to think about others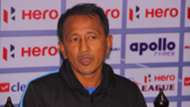 Minerva Punjab FC take on relegation threathened Churchill Brothers in the final I-League match day of the season at the Tau Devi Lal Football Stadium in Panchkula, Punjab, on Thursday afternoon.
A victory for Minerva Punjab (32) will see the Punjab-based outfit lift their maiden I-League title with none of the other teams in contention, namely NEROCA FC (31), East Bengal (30) and Mohun Bagan (30) won't be able to catch up.
If Minerva Punjab draw, then East Bengal v NEROCA must end in a draw while Bagan's win over Gokulam Kerala would be immaterial as the Mariners' possess an inferior head-to-head record with the current league leaders. However, if Minerva Punjab lose, the other teams must drop points.
As Minerva Punjab head coach Khogen Singh sees it, they do not need to follow the results of the other teams who will be playing their ties simultaneously.
"We don't need to think about others (title contenders). We have to win our game and it will not matter if others win or lose. If we win the match, we will become champions," he said.
"But you have to concentrate on this match more than the previous matches. We have to die on the field, because after this match, our lives can change. If we do not perform in this match, all our previous work will be undone," the gaffer added.
Having lost against Churchill Brothers in their first leg encounter, Singh mentioned, "We lost our away match against Churchill (Brothers) 2-1. We will be completely ready and try to stop their strong points."
Singh went on to voice his concerns with regard to the officiating, and stated, "Slight changes in (incorrect) decisions can change the face of the match. It can mentally disturb the coaches and players. So I think the referees also have to be careful as these are title deciding matches."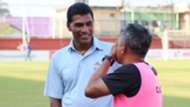 Churchill Brothers coach Alfred Fernandes also revealed his apprehension towards the standard of refereeing in the league.
"If the standard of football has to improve, it has to be through all the stakeholders - the players, coaches, referees. The administrators are doing a good job but when the players are giving their life for the game, one bad decision can cause a lot of heart burns," the Goan bemoaned.
"Referees are human. They also make mistakes, but when they make blunders, it cannot be accepted. Take for example, when we scored a legitimate goal against Mohun Bagan, we were denied the goal when none of our players even touched the opponent, which I saw on TV."
Offering his emphatic views on Minerva Punjab's recent slump, he observed, "It is always tough in the business end of the league. Everybody was thinking that Minerva had almost won it but (a few) results did not go their way and they will come all guns blazing at us tomorrow (Thursday)."
"We have to stay calm and be on guard. Everything will be at stake and hopefully the best team comes out winnerst," he concluded.