Real Madrid
'I hope Real Madrid miss Ronaldo' - Busquets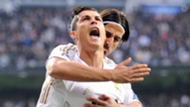 Barcelona star Sergio Busquets has said that he hopes Real Madrid suffer after selling Cristiano Ronaldo this summer.
Ronaldo completed a sensational €112 million (£99m/$131m) move to Juventus in the summer and made his debut for the Italian side in Saturday's 3-2 victory over Chievo.
A five-time Ballon d'Or winner, the Portuguese has been a thorn in the side of Barca over the years, netting 18 times against them in 31 Clasicos and helping Madrid to a raft of titles, including three successive Champions Leagues.
Busquets hopes that the Santiago Bernabeu side will hurt from selling their star man, although he suspects new head coach Julen Lopetegui will find a solution.
"I hope they miss him and notice the lack of goals," he told El Pais. "But I know his coach and he will make Madrid more of a team."
Meanwhile, the 30-year-old spoke highly of team-mate Lionel Messi, who was Ronaldo's great rival for the nine years he spent in La Liga.
"To have Leo in the team solves almost everything because he unbalances opponents, scores goals and creates them," he said. "The more time the ball is at his feet, the better and more advantage we will have.
"It's logical that our game has to go through him. It's not being dependent on Messi, it's being smart and taking advantage of the best player in the world.
"When I've got the ball, I try to find him. Sometimes, too much. But I prefer to take the risk."
Busquets also spoke of the departure of Andres Iniesta, who has already made a spectacular impression at Vissel Kobe in the J-League.
Asked if the veteran will be missed this season, he replied: "Clearly. But not only as a player, but in the dressing room because like Carles Puyol, Xavi and Victor Valdes, he was a captain, a guide. 
"I think the most difficult moment will be when Leo leaves, our generation is almost all the same age and we could finish almost at the same time. Better not to think about it and enjoy the moment."
Barca began their season with a 3-0 win over
Alaves
on Saturday, with Messi netting twice.