Premier League
How Sannie wants churches to help Ghana Premier League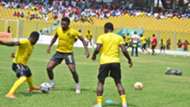 Ghana Football Association communications director Ibrahim Sannie Daara believes churches have a role to play in improving the attraction of Ghana Premier League.
The topflight, in recent times, has struggled for patronage of fans and investors, largely due to its perceived poor organisation.
Unlike past years, stadiums are almost always never filled to capacity, not even when the country's two biggest clubs, Hearts of Oak and Asante Kotoko, face each other.
"Churches must also have football clubs playing in the league," Sannie told Asempa FM.
"This will create a sort of extra-curricular activity for the churches.
"And if church members know their respective teams will be playing on a Saturday or Sunday after church service, they will troop to the various stadia to watch these games.
"Churches are doing well in the areas of health, education and other areas, but they should be urged to venture into sporting activities, because these churches have footballers, aspiring footballers, athletes, etc. as members, so they must take this idea seriously."
The topflight is currently without a headline sponsor and that is just one of its many challenges.
The FA has in the past toyed with the idea of inviting top musicians for performances at matches to improve the lure of the league.
Again, president Kwesi Nyantakyi once encouraged ladies to attend games, so as to attract men to the stadia.