PSL
How Chippa United embarrassed former coach Vladislav Heric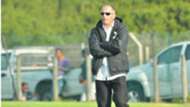 Former Chippa United coach Vladislav Heric has vowed not to work for a difficult club again in his coaching career as he reveals how he was treated at the Chilli Boys.
The Serbian mentor was roped in by the Eastern Cape-based club following the departure of Teboho Moloi in the middle of the last season.
"The way I was fired at Chippa made me change my mind about football…but then I thought I should never work with difficult people again," Heric told Phakaaathi.
"The way they humiliated me and my family was bad and they continue to do it and nobody is doing anything about it. I have decided that I will only work for decent people who will not underestimate my job, who will treat me like a human, like a coach," explained the coach.
The experienced coach was roped in to stabilise the sinking ship after Moloi's departure in March this year and he managed to bag a 3-0 win over Kaizer Chiefs at the FNB Stadium a month later.
However, the 52-year-old manager said he was shocked to receive an email from the club telling him that his services are no longer wanted in Port Elizabeth.
"I got a confirmation that my contract would be extended as they would exercise the option to renew. And later on I got an email that I was being released," he continued.
"I had already rejected two clubs who wanted my services. I had nowhere to go. It was very difficult and it was humiliating for me and my family," concluded the Ubuntu Cape Town coach.
After leading the club to a decent 10th finish last season, the coach was sacked and former coach Dan Malesela was announced as his successor.
However, 'Dance' also became the first coach to bite the dust this season as he parted ways with the Nelson Mandela Bay side just after the start of the current PSL season and he was replaced by Eric Tinkler.