Manchester United
'Henry was my hero!' - Martial reveals affection for Arsenal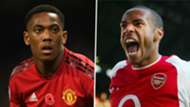 Manchester United forward Anthony Martial has revealed he had a soft spot for Arsenal as a youngster, with Thierry Henry and Nicolas Anelka among the stars he admired growing up.
The Gunners were linked with a move for the one-time Monaco prodigy, but were unwilling to match the club's valuation and were beaten to his signature by United in 2015.
Martial is in the final year of his contract at Old Trafford and, should renewal negotiations break down, Arsenal could seek to land the man they once failed to sign.
And the France international admits that he looked up to his countrymen and followed his heroes closely as sought to emulate them as a pacy forward with good close control.
"I always followed English football. Manchester United because Patrice Evra was there and he comes from the same town as me. I followed Arsenal as Thierry Henry was there, also from Les Ulis," he told Manchester United's official website.
"For my French heroes, I had Thierry Henry, of course, and then Zinedine Zidane, Zizou. They were the best. I admired strikers, number 10s.
"Another player who I really liked was Nicolas Anelka. He was a really great player, quick with loads of skill."
Martial also mentioned two Brazilian icons who had a great influence on him due to their natural flair and admitted that he would often watch video clips of his various idols before games in the hope of recreating their skills himself.
"My two big heroes were both Brazilian: Ronaldinho and Ronaldo because they had magic in their feet! Just about every player from my age group back then would probably tell you the same thing.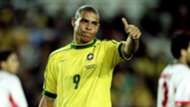 "I used to watch videos of everyone! Henry, Ronaldo – I would watch every striker on the internet, and sometimes, right before a game, I'd be by myself watching action clips, so I'd be able to reproduce what they were doing in those videos."
However, despite his affection for Arsenal and current club United, Martial's loyalties as a child lay with French club Lyon, where he would later start his professional career aged just 17.
"When I was a kid my favourite team was Lyon. It was at the time when almost all the best players were at the club. Lyon was really my team and that was also the reason I went to their academy.
"Karim Benzema was there, Juninho Pernambucano, with the great free-kicks. There was Lisandro Lopez, who went there after that. They had a lot of good players."
Martial and United are back in action on Tuesday as they take on Young Boys in the Champions League at Old Trafford.