UEFA Champions League
Heart-stopping UEFA Champions League the biggest competition – Canizares
Gol Digital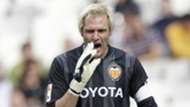 Former Real Madrid goalkeeper Santiago Canizares says that nothing compares to the heart-stopping UEFA Champions League.
The ex-Spain international lifted the trophy during his time in the Spanish capital and his former club are now just 90 minutes away from becoming the first team in the history of the competition, in its current format, to retain the title.
Earlier this month, Real saw off Atleti 3-0 in the first leg of this year's semi-finals as Canizares joined two fans for the Mastercard Heartbeat Challenge, which saw the duo challenged to keep their heart rates under 80bpm during the match.
They two fans struggled, of course, but were rewarded with tickets to the second leg for the passion they displayed.
"I had a really good time with the fans," said Canizares. "It's impossible to live a match like that with a low pulse. I was sure they were going to lose the Mastercard challenge."
And Real fans are in store for yet more heart-stopping moments on June 3 when they meet Italian champions Juventus in the final at Cardiff's Millennium Stadium.
"The Champions League is the title with the most prestige, that is something everybody agrees on," insists Canizares.
"It gives prestige to teams, there is the television rights, the fans.
"It's a unique competition and, even though they have won it 11 times, Real Madrid fight tooth-and-nail to win it every year."
Real are hoping to secure a third title in four seasons, which would seal an unprecedented run off success since the tournament was revamped in 1992, and would also provide a fitting finale to yet another remarkable campaign in a very special tournament.
"Winning the Champions League is the objective of all of the big teams at the start of the season and for some other sides I have played for, winning it was their biggest dream," says Canizares.
 
"It is the competition with the most emotions, one that the best players save themselves for. Without doubt, winning the Champions League means being the best team in the world."
Just how far would you go for your team? MasterCard want all UEFA Champions League fans to join the debate on social using the #MadnessOrPriceless hashtag!