Transfers
Has Alex Sandro downed tools at Juventus following failure of €70m Chelsea move?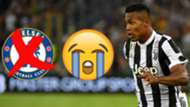 Unsettled players react in different ways to seeing their hopes of a transfer dashed. 
Former Netherlands international Pierre van Hooijdonk went on strike for four months, after Nottingham Forest refused to let him leave the City Ground in the summer of 1998. 
Brazil ace Philippe Coutinho, by contrast, quickly got over the back injury that coincided with his push for a move to Barcelona earlier this year and slotted seamlessly back into the Liverpool line-up, having no doubt realised that regular football was a must going into a World Cup year.
Alex Sandro, though, is a different case altogether. 
The Juventus left-back never publicly expressed his desire to move to Chelsea during the summer but Goal understands that he was drawn to the idea of joining Antonio Conte at Stamford Bridge. 
The Bianconeri also found the €70 million offer on the table enticing and CEO Giuseppe Marotta had previously stated that the club had no intention of holding on to players who did not want to remain in Turin.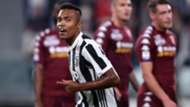 However, Juve had reached the final of last season's Champions League due to the brilliance of their back-line – they went 690 minutes without conceding a goal between the group stage and the second leg of their semi-final with Monaco – and it had already lost two of its five members by the time Chelsea came calling.
Leonardo Bonucci's departure was perhaps inevitable from the moment he publicly clashed with coach Massimiliano Allegri at the tail end of a Serie A game against Palermo in February, but Dani Alves' decision to depart halfway through his two-year contract caught the Bianconeri by surprise. 
Juve agreed to let the fickle former Barcelona ace depart but, once they did, they knew that they could not allow compatriot Alex Sandro to follow him out the door. 
The pair had proven integral to Juve's double-winning campaign. Indeed, there were even arguments that they should both be starting for the Selecao.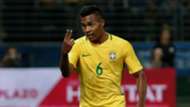 Of course, Marcelo has long been both Brazil's – and the world's – No.1 left-back, but Alex Sandro created more chances (50 to 44), completed more dribbles (49 to 43), made more interceptions (57 to 40) and won more duels (207 to 122) and aerials (41 to 8) than his Real Madrid rival last season – despite playing three fewer league games.
Those numbers were precisely why Chelsea wanted him so badly. Marcos Alonso had been key to their Premier League title triumph but Conte saw Alex Sandro as an upgrade. That's how well he was performing.
Now, though, Alex Sandro could not be playing much worse. 
He started the season poorly and things have deteriorated from there. 
It was hoped that he merely needed time to get over the disappointment of Juve blocking his money-spinning move to Chelsea, who had offered to almost treble his current wage of €2.5m per annum.
"At the moment, Alex Sandro's performances are a little below par," Allegri said on November 4. "But these things can happen; I have spoken to him."
Whatever Allegri said did not work, though.
Just three weeks later, in a Champions League clash with Barcelona in Turin, Alex Sandro was arguably the worst player on the pitch as Juve were held to a 0-0 draw by the already-qualified Catalans, who had even left Lionel Messi on the bench.
He was even whistled by some home fans and Allegri pleaded for patience after the game. 
"Alex is in difficulty but he's finding himself again," the Bianconeri boss insisted. "He did very well in the past but now he's had two less successful months. 
"There were some good signs tonight. The fans should be understanding of some errors."
Alex Sandro made more than a few against Barcelona, though. He gave the ball away 16 times in registering a pass success rate of just 70.5 per cent. 
Mistakes are one thing, though. What the supporters cannot comprehend is the alarming lack of energy and endeavour from a player who effectively played the role of both full-back and winger down Juve's left flank last season. 
Alex Sandro is not displaying anything like the same drive and the accusation is that he is still sulking over the collapse of his move to London.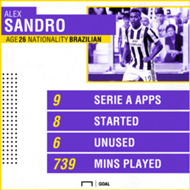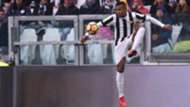 Others fans have gone further, suggesting that he is underperforming in the hope of persuading Juve that a transfer would be the best solution for all parties. 
Goal understands that a parting of ways is now inevitable but not until the summer, when the impressive Leonardo Spinazzola will conclude his loan spell at Atalanta.
Juve certainly have no intention of letting Alex Sandro leave in January, given their primary target to replace him, Filipe Luis, will not be available until the end of the season.
Allegri, for his part, has remained publicly supportive but he is privately frustrated.
That has manifested itself in him dropping the Brazilian to the bench for three of Juve's last four Serie A games, including the back-to-back clashes with their principal title rivals, Napoli and Inter, with Kwadwo Asamoah taking over at left-back.
That is a remarkable development, given that Allegri was fighting ferociously to hold on to Alex Sandro just four months ago.
"He's a Juventus player, he's extraordinary and he won't leave us," the coach enthused.
"He's improved so much since he came to Juve and he has the margins to improve again. 
"Along with Marcelo, he's the best left-back in the world."
Right now, he's not even the best left-back at Juventus, perhaps because he no longer wants to be at Juventus.