Chelsea
Hail, Dave! Indispensable Azpilicueta remains Chelsea's unsung hero
---
COMMENT
---
For every action there is a reaction and for every cause there is an effect.
In footballing terms, this philosophy of yin and yang means that every creative influence and fox-in-the-box striker must be countered by dogged and no-nonsense team-mates.
Azpilicueta: I feel loved here
Star turns are all well and good, but they will only shine at their brightest if supported by a cast happy to operate in the shadow of more illustrious colleagues.
At Chelsea this season, Eden Hazard and Diego Costa have dominated the headlines and stolen much of the spotlight.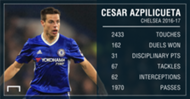 They have, however, been able to prosper in the final third of the field safe in the knowledge that midfield enforcers N'Golo Kante and Nemanja Matic have their back.
Taking another step down the field and the Brazilian flair of David Luiz within a three-man centre-half unit is complemented by the more rugged characteristics of Gary Cahill and Cesar Azpilicueta – two men sculpted out of the same kick it, head it, block it stone as club captain John Terry.
Conte: Azpi among world's best
It is these types who often slip under the radar, with their contribution only truly acknowledged by those around them.
They are, however, deserving of far greater acclaim as without them turning vital cogs, a well-oiled machine would splutter and break down.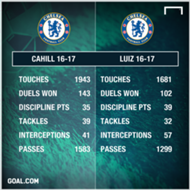 Kante has bucked the trend with his showings over the course of the past 18 months, with the France international having somehow managed to make the holding midfield role seem almost glamorous.
So impressive has he been, though, that he can no longer be considered an unsung hero.
Who Chelsea should sell this summer
By definition, anyone occupying such a category has to operate without recognition, with their job considered to be of value but not important enough to earn the widespread acclaim handed out to others.
At Stamford Bridge, with Antonio Conte fortunate enough to have inherited a star-studded squad which required only a minor facelift, Azpilicueta has come to define the archetypal unheralded workhorse.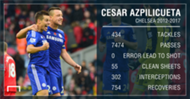 Acquired for a mere £7 million from Marseille in the summer of 2012, the Spaniard was a largely unknown quantity to British audiences, with senior international recognition only bestowed upon him six months after linking up with Chelsea.
That call came about after settling quickly into new surroundings, with the years that have followed seeing the humble 27-year-old become a jack of all trades, and a master of all of them.
'Diego Costa is a big-game player'
Good enough to hold down a regular role on both the right-hand side and down the left, at the expense of none other than Ashley Cole, Azpilicueta is now operating in a central berth and keeping the likes of Terry and Kurt Zouma on the sidelines.
It is easy to see why a succession of managers have been taken in by his charms, and why a man affectionately known as 'Dave' by his team-mates is such a popular character within a dressing room that boasts much bigger profiles and egos than his own.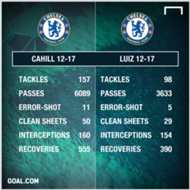 While a popular joke now declares that water covers 70 per cent of the Earth's surface and Kante covers the rest, it is in fact Azpilicueta who is involved the most in Chelsea's Premier League title-chasing quest.
No player has had more touches for the Blues this season and no-one made more passes, while Thibaut Courtois and Gary Cahill are the only other ever-presents in English top-flight competition.
Hazard stays, Costa goes - Desailly
When compared to those who operate alongside him, Azpilicueta claims top spot in a number of important areas such as duels won, tackles and interceptions, while he has also accumulated fewer disciplinary points despite facing the same opposition and challenges posed by said foes.
Conte is clearly an admirer, having told reporters: "We found players not to adapt, but to play in different roles compared to the past. Like Azpi, he is incredible in this new role. He is one of the best in the world in this role."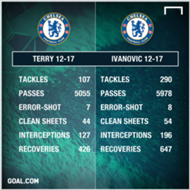 To spread the net a little wider, the versatile defensive lynchpin can also claim to have out-performed the likes of Terry and Branislav Ivanovic since first linking up with the Blues, with it remarkable to discover that he is yet to make a single error leading to a shot in the best part of five years.
Gary Neville said of him in 2014: "Azpilicueta, when I watch him, he's as near to perfect as possible when it comes to defending; he's immaculate."
Cuadrado won't play for Chelsea again
Jamie Carragher added on Sky Sports this season: "Azpilicueta is the best defender in the league. You can talk about full-backs now being wingers. If there was any full-back who I'd want on my team it'd be Azpilicueta, straight in."
All in all, Chelsea can consider themselves to have found quite the bargain and a man who will continue to display a level of consistency that few can match while shunning the limelight.
Hail, Dave...I mean Cesar!