Manchester City
Gundogan plays down importance of Guardiola 'five-second rule' at Man City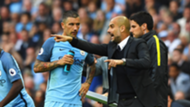 Pep Guardiola does not force his beliefs upon the players at Manchester City, according to Ilkay Gundogan.
Throughout a distinguished coaching career, the Catalan has placed plenty of emphasis on an approach that he considers to deliver the greatest rewards.
At Barcelona, his 'tiki-taka' methods won a host of admirers as silverware was secured on a regular basis.
'Stones learning from Pep every day'
A similar system brought further success at Bayern Munich, with Guardiola looking for his teams to press high and play their way through opponents.
City remain a work in progress during their debut campaign under new management, but Gundogan insists there are no five-second rules or a reliance on tactics that have served their boss well in the past.
"It depends on the situation and also on the opponent," the Germany international told NBC.
"If we are quite defensive and we lose the ball, we just try to get back into our positions and try to defend. That's something you have to do from time to time.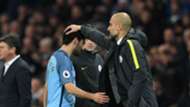 "But if we are more in front and all our players are higher up the pitch, we push and try to win the ball back as soon as possible.
"It's much better to win the ball in these areas rather than in your own half because it makes it easier to score a goal and if we have the opportunity to win the ball back up here (high up) we try to use it."
Gundogan says Guardiola's approach is actually remarkably simple when broken down, with City working to a blueprint that will be familiar to any number of sides.
'Bravo & Caballero nowhere near Hart'
He added: "We always want to be in the position with three (defenders), two (players in central areas) and then the two attacking midfielders because that makes the game easier for us.
"We have short ways of passing between all these players and the most important thing is about creating space for these two guys (attacking midfielders Kevin de Bruyne and David Silva) so they can turn and pass to these guys (wingers Leroy Sane, Raheem Sterling) and these guys - in an ideal situation - pass back to Sergio Aguero to score."
Guardiola's City sit third in the Premier League table at present, with Gundogan seeing an untimely injury prevent him from playing any further part in a top-four battle.