Africa Cup of Nations
'Group of Life!' - Nigerians react to 2019 Africa Cup of Nations draw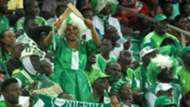 Following the outcome of the 2019 Africa Cup of Nations, Nigerians are delighted with the opponents the Super Eagles will lock horns against by tipping Group B to be a walk in the park.
Gernot Rohr's men have been paired against Guinea and two debutants Madagascar and Burundi. They will begin their campaign in Alexandria against the east African nation on June 22 before taking on Paul Put's side and the Barea on June 26 and 30 respectively.
In reaction to the draw, football enthusiasts across the country are bullish on the team's chances to succeed in Egypt and lift their fourth Afcon title after missing the last two editions.
AFCON Groups.. Good one for Nigeria. https://t.co/3k3CXdJTKv

— KING SUGAR MANCHII (@SUGARCLYVE) April 12, 2019
As easy as this group seems to be for the Super Eagles, I won't be surprised if we end up needing "our calculators" so as to qualify from the group. #Afcon2019Draw

— KUNLE SALAKO (@Bishop_kanny) April 12, 2019
For the first time in the AFCON history, Nigeria has been placed in the Group of Life! 🇳🇬⚽️🦅 #SoarSuperEagles 🦅 #Afcon2019Draw #TotalAFCON2019 #Egypt2019

— OMO IYA ALAMALA (@sama_on_point) April 12, 2019
If Nigeria should get less than 9points in the first round of AFCON...

There's a good chance they won't make the semis..

That group is the easiest of all #AFCON2019Draw

— ❤️The~Empress™❤️ (@MzMary_Cathryn) April 12, 2019
Group B

- Nigeria
- Guinea
- Madagascar
- Burundi

Honestly, if the Super Eagles can't get all 9 points in this group, we've got no business winning the 2019 AFCON. #Afcon2019Draw

— CHIDUBEM NJOKU (@ChidubemNJ) April 12, 2019
God finally answered our prayer #afcon Nigeria on soft lane @V_Ikpeba @NFFCshow pic.twitter.com/heaGUQZKOS

— Excellence (@Exceldj101) April 12, 2019
AFCON 2019
Group B
1. Nigeria
2. Guinea
4. Madagascar
4. Burundi

💃💃💃💃💃💃

We will TOP group B with 12 points.
Take it to CBN #Afcon2019Draw pic.twitter.com/5TFmM0uv1n

— CBN Gov Akinsola Ak🇳🇬 (@cbngov_akin1) April 12, 2019
Nigeria, Madagascar, Guinea and Burundi in Group B.
Not a bad fixture for the Super Eagles in the AFCON draws.

— Nneka Ikem (@nnekaikem1) April 12, 2019
Nigeria to win AFCON✅ https://t.co/mOsAt8UEta

— Chocolate.papi🍫🍫 (@__Stephen89) April 12, 2019
Congratulations to super eagle of Nigeria for winning afcon #Afcon2019Draw

— Nasty_CSA (@mevpromotions) April 12, 2019
Something tells me @NGSuperEagles will do just well at the @Caf_Online AFCON. I hope that thing is right. A decent group for #Nigeria though.

— Tosho Bello. (@IamFastWalker) April 12, 2019
Coach Gernot Rohr on AFCON draw-
"Group B will be tough. Guinea 🇬🇳, Madagascar 🇲🇬 and Burundi 🇧🇮 are decent sides so we have to prepare well. We plan to play build up games vs Ghana(in Nigeria), and maybe Senegal. See whining..

— King TimBIG (@TundeGbedo) April 12, 2019