Premier League
Grant urges Ghanaian coaches to improve ahead of new season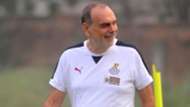 Avram Grant has claimed that Ghanaian coaches lack international exposure despite their talent. The 61-year-old, who is only a month away from seeing off his contract with the Black Stars, has led the Black Stars to the semi-finals stage of the Africa Cup of Nations in Gabon after defeating Congo 2-1 on Saturday.
And reports suggest that Ghana Football Association have begun the search for his replacement, to be announced after the tournament.
The former Chelsea manager organised a seminar for local coaches in 2015 but when asked if any of them can fill his place after his departure, he advised that they have a lot to learn despite being clever.
"I did some meetings for local coaches in Ghana and the questions were good questions but you saw also a lack of experience," Grant said.
"It's a lack of exposure to the world. It's not they are not clever. Some of them are very clever but they don't know what kind of training you are doing in other countries so they have a lot to learn," he added.
Grant hinted last week that he will not extend his stay and he has been linked with a return to the English Premier League.
According to reports in the local media, former Cameroon assistant Ibrahim Tanko and Ghana U20 coach Sellas Tetteh, who is currently in charge of Sierra Leone, are leading the race of indigenous coach who may be appointed to fill the vacant position in February.