Philippe Coutinho
Good enough for Barcelona? Can Coutinho's post-injury dip at Liverpool be excused?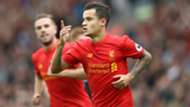 ---
COMMENT
---
Maybe we should have seen this coming.
Possibly, Philippe Coutinho was looking to get his excuses in early as he prepared to rejoin the ranks at Liverpool following an untimely injury.
'Coutinho can be Iniesta successor'
Ahead of a meeting with Manchester United on January 15, with less than half-an-hour of football under his belt in two months, the Brazilian forward said: "The blow to my ankle was really hard and initially I thought I would be out for the rest of the season. There were a lot of nerves because I honestly thought my season was finished."
Were these the words of a man who knew he was not quite right and that it would take some time for him to get back up to full speed?
Almost definitely.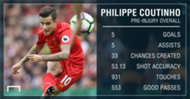 Some 11 weeks on, though, are they also comments that should no longer be held up as justification of a dip in form?
Admittedly, this whole episode has been entirely unfortunate for Coutinho.
Neymar wants Coutinho at Barca
As a man whose profession requires him to be both upright and mobile, ankle injuries are clearly an ailment that will affect performance – if you cannot run, jump, turn and shoot in full physical health, then your ability as a creative influence is unquestionably going to be compromised.
The 24-year-old is, however, a couple of months clear of a stint on the treatment table and is still searching for his early-season spark.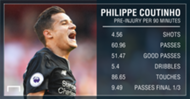 Jurgen Klopp has said: "He misses in this moment - which is pretty normal after a long injury - this kind of consistency. There are always steps in this direction. Sometimes it works. It's about, in this moment, consistency but he is in a really good way."
Coutinho burst out of the blocks at the start of the 2016-17 campaign, so getting up to speed quickly does not appear to be an issue.
Top four always the target - Coutinho
Yes, he had been involved in competitive action at the Copa America and had pre-season training to fall back on but he, like everyone else, was still starting from scratch on the club scene.
By early November he was arguably the top-performing playmaker in the Premier League - in terms of goals, assists and general all-round contribution – but a couple of weeks later he was slumped on the Anfield turf clutching at his leg.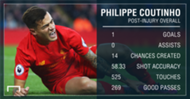 The speculation regarding a possible big-money move to Barcelona had already started to circulate by then – led by cheerleader-in-chief Neymar – and it was not proving to be a distraction.
Instead, Coutinho was busy committing to fresh terms that include no buyout clause, with pictures of him smiling alongside a buoyant Klopp intended to ease any fears that a loyal fan base may have had regarding another highly-skilled South American departing Merseyside at the peak of his powers to join the galaxy of stars at Camp Nou.
Coutinho in derby dig at Everton
His return to action was discussed at great length but he, along with the Reds as a whole, rather stumbled his way into a new year.
Liverpool have improved of late, but Coutinho cannot be considered to have led the revival.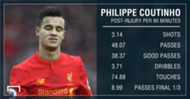 Former club captain Jamie Redknapp has said of his influence on Sky Sports: "He was on fire earlier in the season, he was the difference for Liverpool. But some of the magic has gone and he needs to get that back."
It is difficult to pick an argument with comments such as that, with Coutinho posting figures since his reintroduction to the Liverpool team that are pretty much down across the board – goals, assists, shots per game, passes, dribbles and touches.
Coutinho loves playing with Neymar
He is not as involved as he once was, for club over country, and that can only be of detriment to the collective cause.
There are extenuating circumstances to be taken into account, with an ongoing search for full fitness not being aided by the absence of Jordan Henderson from the heart of Klopp's side – with the club captain a man who helps to keep things ticking over while offering the freedom and support for Coutinho to operate at his best.
To bring things full circle, though, a man of his talents - one deemed good enough to grace the books at Barcelona alongside Messi, Neymar, Suarez and Co - should not require excuses and really should be looking to achieve a level of consistency which places him in a prestigious talent bracket without questions being asked of his presence in such company.