World Cup
Gabriel Jesus or Roberto Firmino - who should be Brazil's No.9 at the World Cup?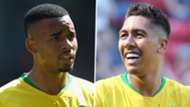 It is apt that Brazil boss Tite has used the word "pressure" to describe Roberto Firmino's push for a starting berth at the World Cup.
For it is pressure, placed upon the opposition's back-line, that is required of Brazil's No.9 in Russia this summer.
Tite has transformed his country's fortunes since taking over from Dunga in 2016, forging an exciting team full of stars that are ready to work for each other.
He has tweaked his line-up again in the last fortnight, dropping Philippe Coutinho back into midfield to liven up Brazil's attack even further, and it is clear that the former Corinthians coach is still willing to make changes to his team despite a stellar qualifying campaign, and their position as favourites to win their sixth World Cup.
Coutinho's role could prove pivotal, while Neymar is and always will be the star attraction, the man with Pele's No.10 shirt. But much will depend on the No.9.
On June 1 Brazil announced their shirt numbers for the World Cup and it is Gabriel Jesus who got the 9, with Firmino taking No.20.
Yet a day later, ahead of Brazil's friendly with Croatia at Liverpool's Anfield stadium, Tite reiterated his stance that the Reds striker is still in with a chance.

"There is a competition and Gabriel is smashing it," he said. "But he [Firmino] is putting pressure on. I have been watching him. I was here [at Anfield] for the 5-2 against Roma. He has these virtues, he has that quality, that's why he's in the squad."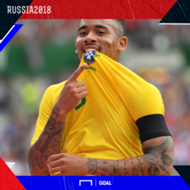 Both strikers bring similar qualities that benefit the rest of the team; they work extremely hard off the ball, they make clever runs - often to free up space for others - and they're not bad in front of goal either. 
Jurgen Klopp, Firmino's club boss, highlights his qualities: "People say he does not score enough. What?! He is the best player without scoring with how well he reads the game for the benefit of others. Outstanding! "What if he starts thinking 'oh, I need more goals' and starts shooting from all over the place when usually, he would play a clever ball and make a run to open up the space?"
Pep Guardiola, Jesus's coach at Manchester City, made a similar point early last season: "His physicality, his high pressing is the best in the world. Gabriel is one of those guys, goals or no goals he helps us in many situations."
Neither player is the star attraction for their clubs or country, precisely because of the roles they carry out, the work they do outside the box; they are the ones to win the ball back, they link the play in the midfield for somebody else to burst into the space they have vacated.
Both men have room for improvement - Klopp highlights how Firmino "drops into midfield and gets the ball and loses a few balls where you have a heart attack but then he wins it back and starts an attack."
Guardiola is also trying to round off 21-year-old Jesus' performances: "He's got energy, but still we try to help him - because he's so young - to understand the movement and what he has to do with the ball.
"I am pretty sure he'll get it because he is open."
Firmino started 32 Premier League games last season and scored 15 goals and made seven assists, while Jesus started just 19 games with 13 goals and three assists.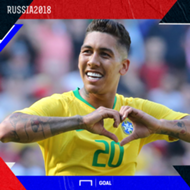 Tite has spent plenty of time in England in recent months, including several visits to City's training ground to watch sessions led by Guardiola - as he did when the Catalan was in charge at Bayern Munich.
The Brazil boss has also been keeping a keen eye on Firmino, as he pointed out at Anfield, but he has made no secret that Jesus is his first choice for the role.
That is almost certainly down to the impact Jesus made as Tite settled into the job. 
Jesus, having helped Brazil win gold at the 2016 Olympics and then secured a move to City, scored twice on his full senior debut, which in turn was Tite's first game as Brazil boss. 
At the time, Firmino was out of the picture, having struggled with injuries in the final months of Dunga's second reign, leading to him being overlooked by the former midfielder, and then his replacement.
The Liverpool man returned to the fold a month later but Jesus consolidated his place in the team with two more fine all-round appearances, and two more goals, in the next two games.
Even injuries to Jesus, in March last year and at the start of this year, have not been enough to tip the balance in Firmino's favour. Asked about the City striker's injuries a month ago, Tite was keen to point out that "he returned at a high level."
It is clear, then, that Jesus is Tite's first choice - a decision that many Brazilians are on board with, most likely due to his triumphs with Palmeiras, in contrast to Firmino's move to Europe before making a name for himself at home.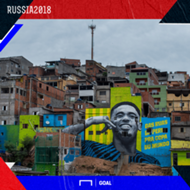 But there is time for that all to change. Firmino will get his chance. Tite says he could play both strikers together, and he has proven he is not afraid to mix things up.  
In the coming weeks, both Jesus and Firmino will have to do what they do best: apply pressure.